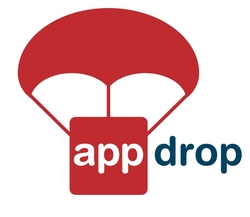 San Francisco, CA (PRWEB) November 4, 2010
AppMakr.com today launched AppDrop, a service that extends the ease and simplicity of making iPhone apps for people without coding experience by enabling Over The Air app installing and testing. Users can now download and install ad-hoc apps without syncing through iTunes, which means no cords and no clumsy 'dragging and dropping' files into iTunes. In fact, the user can be anywhere in the world with just their phones when installing your test apps.
Anyone can make a free native iPhone app on AppMakr.com by grabbing feeds from blogs, Flickr, Photobucket, Twitter, YouTube and many other sources, then further customizing the app in a myriad of ways. Advanced users can design slick, native apps and games using HTML5, which is integrated directly into the app.
App Creators can show off their finished apps to colleagues and friends using AppDrop before publishing on the iTunes App Store. Simply use AppMakr's UDID app to capture each user's unique phone ID, then AppDrop will email the user a link to download the app. Now one, five, ten, or a hundred users can easily test an app; it's high-speed and no-drag.
"With AppDrop we're cutting all the clumsy wires and making the process of showing off and testing apps faster and easier," says Isaac Mosquera, Co-founder and Chief Technology Officer for AppMakr. "The headaches of having to drag and drop embedded profiles or messing with provisioning is gone with AppDrop. Now, AppMakr users can focus on making great content for their iPhone apps."
With AppMakr, making apps is fast and easy, even for anyone without coding experience. If you can point-and-click, you can use AppMakr. Thousands of brands big and small have reduced their development cycles while publishing apps like PBS NewsHour, Newsweek Mobile, PGA TOUR tournaments, Harvard Business Review, Maclife, Macworld, and bloggers like Seth Godin and Guy Kawasaki, just to name a few.
Apps made with AppMakr can be offered for free or sold on the iTunes App Store. Companies with an enterprise license can use AppMakr and AppDrop to create private app stores, bypassing the iTunes App Store completely. AppMakr also makes integrating advertising from AdMob, Millennial Media and Medialets easy. AppMakr users can also purchase premium features such as as pushing SMS-style notifications to users or integrating with popular web services like Ning social networks instantly.
About AppMakr (http://www.AppMakr.com)
AppMakr is an online app building platform anyone, with or without coding experience, can use. AppMakr makes iOS app creation as easy as point-and-click. Make iPhone and iPod Touch apps using RSS or HTML content, interact with users and track downloads and usage through the AppMakr App Dashboard.
AppMakr has been profiled in CNN, TechCrunch, TIME, Mashable, MobileCrunch, TechMeme, TECH Cocktail, The Wall Street Journal, The Washington Post and many others. For details, contact Jerry Wang, jerry.wang(at)appmakr(dot)com or (408) 320-MAKR.
###