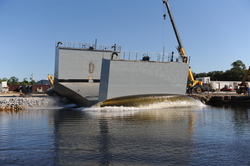 Daphne, AL (PRWEB) November 5, 2010
On Oct. 21, 2010 Marine Heavy Launch Services (MHLS) used pneumatic rollers to launch two sections of Omega Shipyard's newly constructed floating dry dock in Moss Point, MS.
MHLS specializes in heavy launch projects involving marine assets utilizing its pneumatic heavy lift and launch system. By using pneumatic rollers or airbags, MHLS provides the most affordable and efficient way to move heavy marine assets.
Each section launched for Omega Shipyard was 40ft x 70ft and weighed 140 tons. MHLS completed each launch in four hours.
MHLS utilized six 1.5 m. x 12 m. pneumatic rollers to complete the launch. Because of the significant height of the dock section (52") and angle of the ramp (8 degree drop), MHLS added more rollers than is usually required for this size lift to ensure a safe and successful launch. After installing and inflating the roller bags beneath the section, MHLS attached the hold back. Then the bags raised the front, center and back sections of the dry dock high enough to remove the blocks. Once the blocks were removed, the hold back was released and the section was guided into the water.
"The launch went off exactly as planned; efficient, timely, and professionally accomplished," said Michael Wilson of Omega Shipyard. "Marine Heavy Launch Service's expertise, experience, and confidence level was readily apparent to our whole staff here at Omega Shipyard."
MHLS has a contract with Omega Shipyard to launch the two remaining sections in the coming months.
###