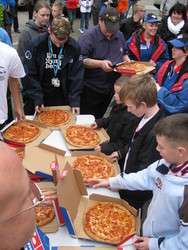 (PRWeb UK) November 5, 2010
Budding footballers in Bolton have received an added boost thanks to sponsorship from Domino's Pizza at Friday's StreetWise Soccer event.
Domino's sponsored the youth football event, which took place at Bolton Town Hall on Friday (October 29, 2010). Kicking off at 10am, the StreetWise Soccer day saw freestyle footballers from across the UK showing off their skills in a freestyle competition. In addition, local youngsters tried their hands (and feet!) at a match in the Streetwise Soccer Panna Cage, as well as picking up hints and tips from workshops taking place throughout the day. The budding footballers also competed in a skills competition – the StreetWise Soccer freestyle football showdown – which was won by Connor McCarthy.
As part of Domino's sponsorship, staff from the stores in Derby Street and Blackburn Road, Bolton, were on hand to assist with the sporting activities, as well as providing piping hot pizza slices for the town's top young talent.
Paul Sampson, franchisee of the Domino's Derby Street store, said: "As a local store, we're very keen to deliver more to our community and are delighted to support the StreetWise Soccer event. Events such as these which encourage budding young footballers to get involved and develop their talents are a fantastic idea – and you never know, we might just have found some new stars for The Wanderers!"
Kevin Tasker, co-director of StreetWise Soccer, said: "Like all clubs and groups, we need the support of local businesses to keep going and I'm delighted to welcome Domino's on board. The sponsorship was a great boost to the Bolton event and we had a great time welcoming the town's budding footballers."
All Domino's Pizza stores are charged with delivering more to their local community. This is a programme run by Domino's head office to encourage all stores to support local charities and events and play an active role in their neighbourhoods. For more details on how your school or group could get involved with the Bolton stores, contact the Derby Road store on 01204 522822 and the Blackburn Road store on 01204 304400.
StreetWise Soccer is a community interest company, which runs local football events, activities and coaching in locations across the UK. For more details, log on to http://www.streetwisesoccer.co.uk.
Photo caption:

Winner of the StreetWise Soccer freestyle football showdown Connor McCarthy (left), receiving his prize from Kevin Tasker, co-director of StreetWise Soccer.
Domino's Pizza were on hand during the day to feed the hungry footballers.
Notes to Editors:
Domino's Pizza UK & IRL plc is the leading player in the fast-growing pizza delivery market and holds the exclusive master franchise to own, operate and franchise Domino's Pizza stores in the UK and the Republic of Ireland. The first UK store opened in Luton in 1985 and the first Irish store opened in 1991.
As at 26 September 2010, there were 643 stores in the UK and the Republic of Ireland. Of these, 508 stores are in England (including our first on the Isle of Wight), 47 are in Scotland, 25 are in Wales, 15 are in Northern Ireland, one is on the Isle of Man, 46 are in the Republic of Ireland and one is a mobile unit.
Founded in 1960, Domino's Pizza is one of the world's leading pizza delivery brands. Through its primarily franchised system, Domino's Pizza operates a global network of more than 9,000 Domino's Pizza stores in over 65 countries. Domino's Pizza has a singular focus – the home delivery of pizza, freshly made to order with high quality ingredients.
Customers in the UK can order online at http://www.dominos.co.uk and customers in the Republic of Ireland can order online at http://www.dominos.ie.
For more information, please contact:
The Domino's Pizza Press Office
Domino's Pizza Group Ltd
Tel: 01908 580654
E: pr(at)dominos(dot)co(dot)uk
# # #