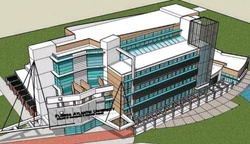 Creating an M2M Center of Competence will provide Florida Atlantic University a platform for our students and faculty to contribute in a meaningful way toward advancing the exciting M2M industry. We deeply appreciate ILS Technology's contribution
Boca Raton, Fla. (PRWEB) November 5, 2010
ILS Technology, a global supplier of "Device to Cloud" and "Secure Remote Access" solutions, today announced that Florida Atlantic University (FAU) will unveil the ILST Machine-to-Machine (M2M) Application Platform at a ribbon-cutting of the University's new College of Engineering & Computer Science "living-learning laboratory," a 97,000 square foot facility designed and constructed to Platinum Level LEED certification. The ILST "Smart Device" Middleware and M2M Application Platform (MAP) solutions will be utilized for demonstration and testing purpose in the area of smart sustainable building technology as well as being a spring board for creating an M2M Center of Competence (COC) for enabling smart connected device technologies, standards and solutions. The M2M COC will enable students, faculty and representatives of major cellular carriers to collaborate on education, research and development of innovative new services and applications such as M2M and Secure Remote Access Solutions. In total, ILS Technology donated a substantial number of software licenses for smart device monitoring within the College of Engineering & Computer Science "living-learning laboratory" as well as software to be used by students and faculty for research and development.
ILS Technology a Boca Raton, Florida-based company is honored to be participating in this exciting initiative. Fred Yentz, ILS Technology President and CEO, has participated on the College of Engineering & Computer Science at FAU's Industry Advisory Council and currently sits as Chairman of the Council working in partnership with the Dean to set a meaningful vision for the College to enhance the student experience through industry participation.
"As the premier showcase in the State of Florida for the latest innovations in sustainability, our 'living-learning laboratory' is the ideal environment for education and research in the technologies which power our economy and society," said Karl K. Stevens, Dean of the College of Engineering & Computer Science at FAU. "As the world of sensors and devices become connected into systems the vision of creating an M2M Center of Competence will provide a platform for our students and faculty to contribute in a meaningful way toward advancing the exciting M2M industry segment. We deeply appreciate ILS Technology's contribution and their dedication to this critical area of technology."
"FAU provides an excellent venue for creating advancements in M2M technology through the 'living-learning laboratory' model, this new real world education environment create an exciting blend of Academia and Industry. ILS Technology is delighted to be able to give back to our local State University by providing a development platform for today's students to further their education in an applied manner," said Mr. Yentz. "Together with Tecore Networks generous donation of wireless network infrastructure we will provide FAU students and industry participants with an unprecedented set of M2M application and network capabilities in an effort to further enhance the superior educational opportunities provided by FAU College of Engineering and Computer Science."
About ILS Technology
ILS Technology, LLC, provides software technology and services that change the way companies share information – within their own operations and their end-to-end supply chain. The company's solutions, including software as a service, enable secure and collaborative connections between intelligent devices in production environments, across enterprises and between businesses. Offering broad applicability in a wide array of industries, ILS Technology's offerings have been field-proven in markets where the protection of intellectual property is crucial and the ability to share information from any point around the world in real time is paramount. Solutions developed by ILS Technology adhere to demanding industry standards and are adaptable to virtually any technology platform regardless of vendor. For more information, visit http://www.ilstechnology.com
ILS Technology is a wholly owned subsidiary of Park-Ohio Holdings Corp. (http://www.pkoh.com), a leading provider of supply chain logistics services and a manufacturer of highly engineered products for industrial original equipment manufacturers.
# # #