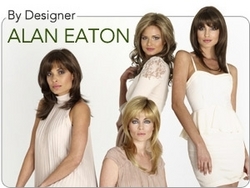 At Envy, we take pride in helping women look great … naturally.
Dallas, TX (PRWEB) November 6, 2010
For many years, Alan Eaton created industry-leading concepts and designs for Revlon's Flagship collections. His designs were so well received and his name increasingly valuable to the beauty giant that Revlon launched Eaton's self-titled line of wigs. The Alan Eaton Collection was a success. Like many designers as gifted and in-demand as Alan, who had already made quite a name for himself, he had the opportunity to take complete control of his own future and the direction of his collections.
Alan and his team created a new line of wigs and hair add-ons which are specifically designed to give a fashion forward twist on the most classic styles. Alan aspired to create a new line of products which felt as comfortable to wear as they were beautiful. Alan Eaton has always inspired loyalty among his colleagues and clients. With a clear vision and a wealth of talent, Alan and his team set forth to create a line of products that would make a difference in the industry. Then, Envy was born.
When Eaton began his career as a stylist and salon owner over 20 years ago, he recognized that the single most envied fashion statement is a woman's hair. When a close friend of his began to suffer hair loss due to intense medical treatments, Alan realized that hair is more than just a fashion statement. He resolved to fulfill the need for alternative hair that looked natural and felt good to the scalp. Eaton comments, "Envy is about celebrating women and providing them with the high-fashion hair of their dreams. It's about soft, touchable styles and multi-dimensional colors. At Envy, we take pride in helping women look great … naturally." Alan goes on to say, "Of course, I can't give away our precious trade secrets. But I can say that our monofilament part, lace front, and open top collections are all designed to give every woman a comfortable, contoured fit that hugs the head, does not ride up or slide around, and is gentle even on the most sensitive scalps."
The collection consists of 18 beautifully natural styles, each one geared toward the fashion conscious and on-the-go woman who wants to look polished but never overdone. Industry experts have raved about the new line, touting it as fresh and brilliant. They feel there are some runaway hits in the Envy collection: wig styles called Sheila, Alyssa, Monique, and Leyla.
First to launch Alan Eaton's new Envy wig collection is the leading retailer in wigs, hairpieces and hair extensions – Wigs.com. To learn about the Envy line, visit Wigs.com to see all the winning styles. Watch behind-the-scenes footage from the Envy photo shoot and an exclusive interview with Alan Eaton.
About Wigs.com
Wigs.com is the leading hair shopping network building its trusted name for 15 years by partnering with Celebrity lines such as Raquel Welch, Jessica Simpson, Vivica A. Fox, Kathy Ireland, Beverly Johnson, and others has helped bring celebrity-inspired styles to millions of customers looking for the perfect hair solution. Only the best in wigs, hair extensions, hair pieces, care products and accessories are represented on the site. Where the company has separated itself from the rest is in the expertise and education offered to the public. Over the years wigs.com has established their name as the best source for alternative hair and related products.
# # #