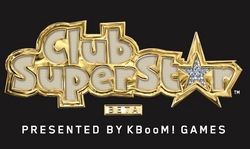 Chicago, IL (PRWEB) November 5, 2010
KBooM! Games in association with Tribeca Flashpoint Academy, today announced a call for original music for Club SuperStar, a Facebook game where players create their own nightclubs and nightlife.
Club SuperStar's savvy platform promotes new music through the immersive experience of online gaming. Users launch their own online touring bands to play their friends' venues, and participate in an unprecedented virtual music scene.
Musicians upload original songs to http://www.kboomgames.com, and are notified if their tracks are selected for the game. Each track is linked to the artist's webpage, so fans can download the music directly from the artist or the record label, establishing an ongoing relationship between artist and audience.
For musicians, Club SuperStar is an opportunity to break through the ocean of online music. User-ratings determine which songs stay in the game, shaping a robust, constantly evolving collection.
Users create play lists and rate the music they hear, propelling bands they like to the top of the game's charts, and delivering real time response rates. Game points are awarded to players with the most popular club, and most popular bands.
Club SuperStar's sonic and visual landscape evolves on a daily basis: "With so many game brains collaborating you'll see new features roll out continually," said Dan Amdur, President of KBooM! Games.
As more users log on to Club SuperStar, KBooM! Games will promote the top rated bands in the press, and sponsor live music events in actual venues, bridging the virtual with the real, creating revenue opportunities for the artists, and bringing players and musicians together face to face.
# # #