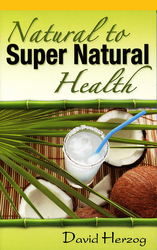 You will learn not only how to go from natural to super natural living with miracle super-foods and lifestyle, but how to tap into the highest power source that exists today
Huntington Beach, CA (Vocus) November 4, 2010
Phoenix-Scottsdale, AZ (Vocus) November 4, 2010 -- Natural to Super Natural Health is the newest, award-winning book from motivational keynote speaker, nutrition and life coach, David Herzog. This book draws on years of experience to discuss universal concepts of motivation, reprogramming the mind for success, ultimate health and tapping into a higher power source to create peak performance and transform the body.
"You will learn not only how to go from natural to super natural living with miracle super-foods and lifestyle, but how to tap into the highest power source that exists today," explains Herzog. "The idea is to first find out what part of your body is aging the fastest. Once you repair once part of the body through brain health, the other parts start to heal and reverse even before you start working on them."
According to Herzog, it all starts with brain health.
As the new book explains, the body is actually designed to re-create itself. In fact, 98 percent of the atoms in your body re-create itself every year. Every month your skin is totally renewed and every three months, your skeleton is re-created. Every five days, you have a new stomach lining that is created.
"Aging starts to occur in the brain," Herzog said. "As you age, certain chemicals in your body starts to diminish. As this diminishes, it sends a death code to other parts of the body. If you can revitalize these brain chemicals to the same levels as when you were younger, you can slow down and even reverse the aging process."
"One of the least talked about subjects has to do with the brain and how it affects everything in your body. The brain is the control center of everything. Once you learn how to feed and utilize this control center you can literally start to see drastic changes beyond any diet and begin to experience age reversal," adds Herzog.
Natural to Super Natural Health is a great read and an excellent way to get ones body, life and emotional well being realigned and at peak performance level. Order "Natural to Supernatural Health" today at http://www.davidherzogbook.com
About David Herzog
David Herzog is a certified nutrition coach, motivational speaker, and life coach. He has helped actors and entertainers, government heads of state worldwide, businessmen, health and sports professionals, has been invited to the White House, and has shared his keys at the United Nations. He has appeared on numerous television and radio interviews, and his work has taken him across North and South America, the Caribbean, Europe, Africa, Asia, the Middle East, Australia and New Zealand, and among the native tribes of the Americas, the Arctic and the islands. Hundreds of thousands of people have been inspired by his motivational keynotes, seminars and conferences around the globe. The new book is an extension of his philosophy and is an exciting addition to David's growing list of achievements.
Keywords: David Herzog, anti-aging, wellness, preventive, health, medical, pharma, Super Natural Health, age reversal, brain, central nervous system, health news, entertainment news, books, new age, nutritional, raw food, natural food, vitamins, brain food, weight loss, Sedona
# # #