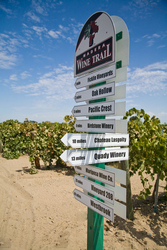 Designated Driver - Madera Wine Trail
Madera, CA (Vocus) November 4, 2010
The Madera Vintners Association's family wineries present the Madera Wine Trail's "Holiday Spirit Weekend" on November 13 and 14, from 10 am to 5 pm. This is a chance to get into the holiday spirit as you taste the award-winning wines of the Madera Wine Trail.
Madera's warm climate and geographical features gives winemakers the ability to craft wines that offer distinct flavors of unique varietals. Wine Trail visitors will have the opportunity to taste a variety of aperitif, table and dessert wines that are sure to satisfy any palate.
Allyson Robison with the Madera Vintners Association said this is a great time to do some Christmas shopping. "Are there wine enthusiasts amongst your family and circle of friends? Then, share the gift of Madera wines. Giving wine for a holiday gift is not only a great conversation starter, but allows you to share something you have personally experienced and pick out just the right varietal for that special person," she said.
Madera Wine Trail Passport Glasses are available for $25 from any participating winery both days of the event, and serves as the pass to free wine-tasting on the Trail all weekend long.
Pre-sale tickets are available for $20. Tickets may be purchased online at http://www.maderawinetrail.com through Nov. 7, 2010. Tickets may also be purchased in person at the following locations through Nov. 12, 2010:
Birdstone Winery
Chateau Lasgoity
Cru Wine Company
Idle Hour Winery (Oakhurst)
Quady Winery
San Joaquin Wine Company
Vino & Friends
Designated Drivers are always welcome on the Madera Wine Trail, and they are always free. Be sure to ask for a "Designated Driver - Madera Wine Trail" VIP kit at your first stop on the Trail.
Participating Wineries
Birdstone Winery – 9400 Road 36, Madera, (559)645-1825, http://www.birdstonewinery.com
Begin your 2010 Madera Wine Trail Holiday Spirit Weekend experience at Birdstone Winery. Birdstone will host live music and a number of talented local artists throughout the weekend. For lunch each day enjoy a delicious dish of Fiori Di Pasta Ravioli's smothered in a light red cream sauce, a garden fresh Caesar Salad and garlic butter toasted Bruschetta topped with Pesto and Roma tomatoes – all prepared by Chef Michael Mazzoni and Chef Cathy Barrows. Great food, art, music, award winning wines and warm friendly people make Birdstone Winery a necessary stop on your wine trail adventure.
Chateau Lasgoity – 11219 Road 26, Madera, (559)674-8291
Come join us at the Chateau during the Fall Wine Trail weekend! Where you will find exceptional wines offered at great prices. Chateau Lasgoity patrons don't miss out on our major case discounts only offered this weekend. Live music both days from local band, "The Tools." Lunch is available from Full OBull deli of Madera. We look forward to seeing you at the Chateau.
Cru Wine Company – 20146 Road 21, Madera, (559)673-6372, http://www.mariposawinecompany.com
Get a kick start into the Holiday Spirit with Cru Wine Company (formerly Mariposa Wine Company) new name and new look. Located just west off Highway 99, at Avenue 20. We will provide the passport, wine and cheer, all you need to bring is your taste buds. Experience our new picnic area, beautiful Tasting Room and patio, along with the many new and exciting things going on at CRU. Winemaker Ken Post will be doing some special barrel tasting of some of our up and coming surprises and he has also been known to have a few other tricks up his sleeve. Make Cru a must stop and enjoy the world class wines, great local art, jewelry by Two Bottle Blonds, live music, tasty food and more. Be sure to take advantage of our Holiday deals on wine and stock up for the season. The Cru Crew looks forward to seeing you.
Ficklin Vineyards – 30246 Avenue 7 ½, Madera, (559)661-0075, http://www.ficklin.com
Make Ficklin Vineyards a stop at Madera Wine Trails, Holiday Spirit Weekend. Ficklin Vineyards is pleased to showcase our legacy of award winning Port, including our 1996 Vintage Port, Aged 10 Year Tawny, Old Vine Tinta, and many other Port styles. Accompanying our legacy of Ports are our more recent award winning table wines, including Chardonnay, Rose, and Cabernet Sauvignon. Additionally, to our full selection of table and dessert wine, is an assortment of vendors to pair beautifully with our selections of wine. We are featuring wild cats from the Cat Haven. We are bringing in two experts to demonstrate wood working on lathe, and hand rolling cigars. Howard Atamian is coming with his lathe and making an array of wood products. Aldo Rodriguez, owner and operator of Casa del Tabaco, is going to sell and hand roll cigars from Cuban seed to pair splendidly with our Ports. With these demonstrations we are also going to having cheese, jewelry, and chocolate.
Idle Hour Winery – 41139 Highway 41, Oakhurst, (559)760-9090, http://www.idlehourwinery.com
Start your wine trail at Idle Hour Winery! Take a drive up to Oakhurst and see the Fall colors! Taste our award-winning wines while enjoying our 6 acre property on the Fresno River. Bring a picnic! Local artists: photographer Rikki Alley and painter Judy De Rosa, will display beautiful photos of the Yosemite mountains area, paintings and handmade jewelry. Local musicians will entertain you! Or better yet, end your wine trail day at Idle Hour Winery and book a room at the Queen's Inn Saturday evening, where you can enjoy the blazing fire pits and a great selection of wines and beer in the wine bar! Call 559.683.4354 to make your room reservations today!
Quady Winery – 13181 Road 24, Madera, (800)733-8068, http://www.quadywinery.com
Mike's Place in Quady Winery will be the place to hang out for good wine and a fun time. Our winemakers Michael Blaylock and Darin Peterson will guide you through a vertical tasting of our library port wines STARBOARD/PORT made with traditional Portuguese varietal grapes. Joel Lopez of Perfect Blend Fine Cigars will be on hand to advise you on the right CIGAR to go with that special wine. Grab a glass of port, a cigar, a spot on one of the couches and enjoy the game. Walk through the winery and delight in our Muscat wines; Essensia, Elysium, Electra, Red Electra and Deviation. Enjoy our aperitif wines Vya Sweet and Vya Dry. Holiday treats will be paired with our wines for a synergistic experience. Blues and Rock by Howl'n Howard and BrotherWard. And of course… Wine Trial Discounts!
San Joaquin Wine Company – 21801 Avenue 16, Madera, (559)673-0066, http://www.sjwineco.com
Our friendly staff at San Joaquin Wine Company, home to Moody Press Cellars and Green Eyes, awaits you on this November wine trail. San Antonio Chef Don Wittschiebe is back to pair culinary delights with our newly released 2007 Moody Press Cabarnet Sauvignon, 2007 Moody Press Zinfandel, and our 2009 Moody Press Chardonnay. Start your holiday shopping early with jewelry designed by Kelly Kirschner of Serendipity Studios. Saturday, get into the groove to the music of local band, Rhythm Review. On Sunday, enjoy the sounds of the Kingsburg High School Wind Ensemble as they play their way to Carnegie Hall. Wine club members will be able to pick up their latest club shipment including a special gift. Stop by and see what other surprises San Joaquin Wine Company has in store for you!
Westbrook Wine Farm – O'Neals, Reservation Only, (559)868-3499, http://www.westbrookwinefarm.com
Plein Aire Wines by appointment only
Dependable favorites and exciting discoveries await fifty serious wine lovers each day at Westbrook Wine Farm Vineyard and winery in O'Neals just forty minutes northeast of Fresno and Madera. We will be showing our award winning red wines from the stellar 2007 vintage to include Fait Accompli "Renaissance", Cabernet Sauvignons Lodi, Cabernet Sauvignon Clone 4, and our Petite Sirah, John Simpson Vines, a Gold Medal and Chairman's Award winner at this year's Orange County Fair Wine Competition. White wine afficionados will be able to contemplate our cheeky Uber Rhenish Dry Riesling and multi-layered Viognier/Valdiguie. There is also sure be a proliferation of provocative Oenobabble. We will be offering special "Wine Perp" prices throughout this event. Please call 559-868-3499 or email westbrokwine(at)netptc(dot)net early to secure your confirmed reservation. Thank you for your kind consideration of our wines.
Ray and Tammy Krause
http://www.westbrookwinefarm.com
Under 21 not admitted. A non-smoking property.
CONTACT:
Allyson Robison
Executive Administrator
Madera Vintners Association
Phone: 559-706-8216
Toll Free: 800-613-0709
allyson(at)maderavintners(dot)com
http://www.maderawinetrail.com
# # #