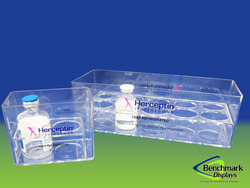 Navigating our corporate vessels through the treacherous shoals of a down business cycle can be difficult
Palm Desert, CA (Vocus) November 5, 2010
Benchmark Displays, Palm Desert, California, has finished producing a new custom acrylic storage system for the biopharmaceutical industry giant Genentech.
"Navigating our corporate vessels through the treacherous shoals of a down business cycle can be difficult," expressed Dick Frohman, V.P. Marketing. "Especially so these days when our profits are squeezed between escalating costs and limited pricing power. Times like these require extraordinary customer service and creativity" in order to maintain margins and keep customers in the fold."
An opportunity for just this kind of performance came to Benchmark Displays when called upon by Genentech, a member of the Roche Group and perennial winner of Science Magazine's Award for Top Employer in the Biopharmaceutical Industry and '100 Best Companies to Work For' by FORTUNE, to perform a small miracle.
Clinicians and the FDA were asking for a new, permanent, dispensing tray for refrigerated storage of Genentech's Herceptin®, cancer treatment dosages. Slingshot Marketing of San Francisco and Benchmark Displays partnered to design, gain approval and fully implement an attractive and functional, custom solution, in record time.
Benchmark's custom display team created two prototypes that ultimately led to the finished designs. One small, clear, acrylic tray was to hold securely in place a single dosage comprised of the Herceptin® and bacteriostatic water. The second, for larger clinics, was designed to hold and safely store five complete applications along with the required product information sheet.
From initial contact, through concept development, prototype modeling, legal approvals, injection mold making, molding, logo and ident printing, packaging and air-shipment to Genentech marketing and sales personnel in the field, Benchmark completed the project in 90 days.
Benchmark customer service and management personnel on the ground with its China-based manufacturing group of participating companies, worked virtually round-the-clock to coordinate, make timely decisions and provide Quality Control approvals along the way. Slingshot Marketing owner Ryan Walsh provided the contact and constant feedback from Genentech to keep the project constantly moving.
It would be a stretch for all involved to claim they would like their projects all to have the same 'hair on fire' urgency that came with this one. However, that is not to say the Benchmark airplane is not 'waiting on the tarmac' for the next high-adrenaline experience. "Benchmark protects margins and keeps customers in the fold!"
###