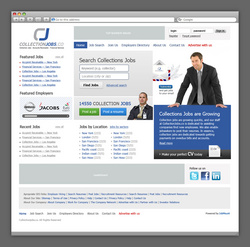 CollectionJobs.Co is very user friendly and loaded with jobs and hard working debt collectors.
Buffalo, NY (PRWEB) November 5, 2010
One of the biggest challenges for most collection agencies and debt collectors is retention and staffing. Collections can be a high stress industry and many debt collectors leave the business long before they get the chance to achieve success. The collection agency owners spend large amounts of time and money training the new debt collectors, only to have them leave before they became profitable. That's why collectionjobs.co is such a strong source for the collections and credit industry. They help debt collectors find the right match with their online job search engine that specializes in the collections industry. Debt collectors can use the site for free. The features for debt collectors consist of job search email notifications. When a collection agency post a job within so many miles of the debt collector's zip code, the search engine automatically generates an email to the debt collector notifying them of the new job post. Saved job postings and saved resume postings are just a few more of the many features for the debt collectors. And the debt collectors never pay for the service at collectionsjobs.co. Debt collectors can use the service for free and look through as many jobs as they like.
Collection agencies have online resume views, applicant notification via email, and application counter views next to each ad placed. This enables the owner to see exactly how many qualified collectors have viewed their ads.
For a fraction of the price that collection agencies would pay one of the major job boards, they get quality applicants who specialize in debt collections. The price to post jobs at CollectionJobs.Co is $75 for 35 days of unlimited postings. By utilizing unlimited amounts of postings the agency owner will have the ability to staff for any position their collection agency has available. The customer service staff at collectionjobs.co is always available to assist collection agency owners and debt collectors, with questions or comments.
Staffing large collection agencies is not easy an easy task. The senior leadership of collectionjobs.co has been in the collection industry for over 15 years. They seem to understand the challenges collection agencies face, when hiring and looking for qualified applicants. Experts in the collections industry agree, that when collection agency owners hire more experienced debt collectors their production and performance on overall liquidation rates, go up dramatically. The higher liquidations are for collection agencies the more business they receive from their clients. More business for the debt collectors, allows for more opportunity to achieve success.
There are many features that collectionjobs.co plan to introduce in the future, to enhance the product, for collection agencies and debt collectors. A social media section feature will be added soon. This new concept will enable the debt collector to login into the virtual platform, and speak with other debt collectors and collection agency owners, directly by zip code, city, or state. This will enable the debt collectors to not only find employers online in their area recruiting, but will also enable them to stay current on trends and challenges debt collectors face in the collections industry. The collection agencies will find this feature most helpful in advertising and finding new recruits online in the virtual room. Collection agency owners will have the ability to talk to debt collectors in an open forum about their company and the, and the opportunities available.
For more information go to http://www.collectionjobs.co today.
###