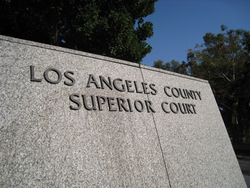 "It shows that the jury fully understood the stigma that Mrs. Saadian will have to live with for the rest of her life solely as a result of her husband's actions."
Los Angeles, CA (PRWEB) November 5, 2010
Slovak, Baron & Empey LLP, a prominent Palm Springs, California law firm announced today that Shaun M. Murphy, a partner in the firm, won a $2.49 Million verdict on behalf of his client Kathrin Saadian against her husband George Saadian after he infected her with genital herpes. (Case # BC394034 Los Angeles Superior Court)
"We are very pleased that the jury found in favor of Mrs. Saadian," said Murphy, lead counsel for Mrs. Saadian, who tried the case with co-counsel Steven Morris of Turner, Aubert & Friedman, LLP, in Beverly Hills, California. "The verdict clears Mrs. Saadian's name and reputation," said Murphy, adding, "It also shows that the jury fully understood the stigma that Mrs. Saadian will have to live with for the rest of her life solely as a result of her husband's actions."
According to court documents, Plaintiff Kathrin Saadian and Defendant George Saadian were married for 16 years. In 2006, the Defendant registered with various online escort and adult websites and began soliciting and paying women for extra-marital affairs. As a result of these liaisons, the Defendant contracted genital herpes. In August 2007, Defendant moved out of the marital home and declared he wanted a divorce. But he returned to the marriage only three weeks later, under the pretense of reconciling. Plaintiff claimed that Defendant's real purpose in returning to the marriage was to persuade her to sign quitclaim deeds relinquishing her interest in real estate – worth millions of dollars – which the couple had acquired during the marriage. While trying to get the quitclaim deeds signed, Defendant infected her with genital herpes without disclosing to her that he was infected. Mrs. Saadian was raised in a very conservative social and religious culture; thus her husband was her first and only sexual partner. The Defendant claimed he did not know he was infected.
After only four and a half hours of deliberations, the jury found the Defendant liable for: Sexual Battery, Fraud, Concealment, Negligence, and Infliction of Emotional Distress. The jury's verdict of $2.49 Million includes both compensatory and punitive damages.
Mr. Murphy is the leading attorney in this field and this is the second multi-million dollar verdict he has obtained in the last two years. In January 2009, Mr. Murphy obtained a landmark verdict of $6.75 Million for a woman infected with genital herpes by her boyfriend. In the last two years, Mr. Murphy has also assisted others infected with genital herpes obtain over $4 Million in settlements.
About Slovak Baron & Empey LLP … Formed in 1999 with four partners, Slovak Baron & Empey LLP (SBE) has built a strong reputation as successful trial lawyers and transactional counsel closing over a hundred million dollars in complex business deals. A Martindale Hubble AV-rated law firm, SBE has quickly grown to 15 lawyers with offices in Palm Springs, Orange County, and New Jersey. For more information about SBE, please call 760.322.2275 or visit the firm's website at http://www.sbelawyers.com.
###