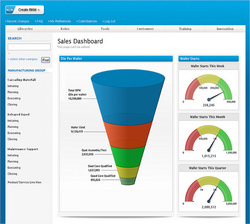 "True collaboration is accomplished in the context of the applications, data and people you work with – it's an information fabric that weaves throughout your business."
San Diego, CA (PRWEB) November 5, 2010
MindTouch, the company that transforms great work into strategic content, today announced the immediate availability of MindTouch Social Intranet with Workforce by Dachis Group. This jointly developed solution is an enterprise-ready, turn-key intranet solution that replaces online collaboration silos with a purpose-built solution that brings teams, applications and systems together to help your organizations accomplish more.
The days of stagnant intranets, under-utilized collaboration platforms and outdated information are over. This solution allows your users to easily connect your software, systems and people to create a vibrant, real-time information fabric – an intranet your users will adopt and utilize.
"We are thrilled to begin joint delivery of the most extensible and effective social intranet on the market," said Aaron Fulkerson, Founder and CEO of MindTouch. "True collaboration is accomplished in the context of the applications, data and people you work with – it's an information fabric that weaves throughout your business. This solution is the first social intranet to bake that holistic and extensible approach into the product itself, and is based on a proven, real-world implementation at Dachis Group."
The MindTouch Social Intranet with Workforce by Dachis Group was developed based on Dachis Group's implementation of the MindTouch platform and the two firms related partnership. MindTouch and Dachis Group have since teamed up to bring this product to market and deliver a turn-key solution that has been conceived of, developed and fine-tuned in a real-world social business environment.
"We are excited to be partnering with MindTouch as they deliver this product," said Jeff Dachis, founder and CEO of Dachis Group. "This innovative solution was influenced by our own adoption and use of the MindTouch platform and Dachis Group's Social Business Design thinking along with the extensive workforce collaboration expertise at MindTouch to provide a turn-key solution that delivers immediate and measurable business value."
Product Details:
MindTouch Social Intranet

Collaborative Web-Based Authoring - Enable users to share ideas, updates and documents within an online authoring and editing experience, further accelerating adoption
Enterprise Dashboards (Business Intelligence) - Enterprise dashboards (with MindTouch Charts) deliver business intelligence, previously unheard of at this price point. Combine information from disparate systems to create actionable datasets for teams that might not have always had such access to data
Social User Profiles - Regardless of size, an organization can now find their subject matter experts for specific projects or initiatives.
Pre-built Connections to LDAP/Active Directory Authentication and Policy Engines - Use your existing network directories to grant users access
Branding - Get your social intranet up and running with the same look and feel as your other corporate properties
Workforce by Dachis Group:
Workforce Projects - Workforce Projects keeps projects and initiatives on-time and on-track, managing status, timelines and related documents.
Workforce Issue Management - Workforce Issue Management is a great solution for any help desk or engineering team that needs to manage open issues, such as help desk tickets, issue tracking or feature requests.
Workforce Comments - Workforce Comments lets coworkers connect, regardless of their physical location. With Workforce Comments you can start a conversation, follow a particular project or issue and collaborate in real time with your team members.
MindTouch Social Intranet with Workforce by Dachis Group is available today. Visit MindTouch Social Intranet for more details.
About MindTouch
MindTouch is built on the belief that enterprise software must be scalable, agile and extensible. Our product, MindTouch 2010, transforms the way organizations author, discover and curate strategic content to achieve measurable results with customers, partners and colleagues. Our open source project, MindTouch Core, is used by over 18 million people and is supported by one of world's most active communities.
About Dachis Group
Dachis Group is the world's leading Social Business consultancy.
Social Business Design is connecting with your customers + your workforce + your enterprise to create powerful business value.
Through its three main Social Business practice areas, Social Business Strategy, Social Business Engagement, and Social Business Intelligence, Dachis Group helps large organizations become more connected and engaged with their constituents. The company has developed a framework for Social Business Design by addressing organizational transformation across business systems, process, and culture.
Dachis Group serves over 15% of the Fortune 500 companies, including: American Express, AOL, AT&T, Bud Light, Calvin Klein, Chevrolet, Chrysler, Cisco, Citibank, The Coca-Cola Company, COVERGIRL, DeVry, Dodge, Doritos, Estee Lauder, HBO, HP, IBM, Intel, JetBlue, Lexus, McDonald's, Microsoft, Motorola, Nike, Procter & Gamble, Samsung, Sprint and Yum! Brands.
Dachis Group was founded in 2008, by Jeffrey Dachis. The company offers services around the globe with offices in eight cities in five countries, employing over 120 professionals. Dachis Group is headquartered in Austin, Texas with offices in Philadelphia, Pennsylvania; Portland, Oregon; St. Louis, Missouri; London, England; Sydney, Australia; Amsterdam, Netherlands; and Madrid, Spain.
Dachis Group operates as: Dachis Group; Headshift, part of the Dachis Group; Stuzo, part of the Dachis Group; XPLANE, part of the Dachis Group and The 2.0 Adoption Council, part of the Dachis Group.
The company's strategy is backed by a financial commitment from Austin Ventures to build and grow organically and through acquisitions.
# # #