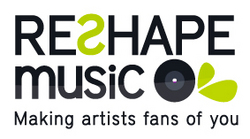 We support independent music and creativity; we encourage new up & coming artists and cultural diversity.
(PRWEB) November 8, 2010
Reshape-music is a community-based music label launched in early October, which aims at gathering artists and music lovers around the concept of fair-trade. The communities' main purpose is to reshape the rules by launching new artists those are marginalized by the music industry.
The community becomes the central interest. Reshape-music enables the users to subscribe in advance the albums of artists they like. According to the amount they give to support the artist, they have the possibility to receive goodies like a limited edition of the albums specially made for the community, in the format they want (Flac Format, cd digipack or vinyl), as well as advantages like having their names in the special thanks section of the album, accesses backstage until the commercial release and much more.
The community directly contributes to the artists' future albums. In fact, when 25000€ are collected through subscriptions, Reshape-music and artists can start to work together to launch the CD album and the users are often consulted to provide advice. Regarding the funds, they are used for CDs and vinyl's printings. There is also a graphic designer at the artists' disposal for the creation of the album visuals. A specialist is in charge of public relations. And a promotional agency is in charge of the notoriety of the album on the web. Then when the album is launched, artists keep 100% of their production rights.
Reshape-music making artists fans of you!
For more information, visit http://www.reshape-music.com/about-us
Media Contact : Jeff Caly
Reshape-music
+33 (0)6 222-565-19, jeff at reshape-music dot com
###