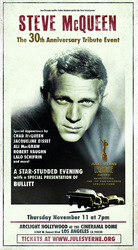 WHEN I BELIEVE IN SOMETHING, I FIGHT LIKE HELL FOR IT. Steve McQueen
Los Angeles, CA (PRWEB) November 6, 2010
A Steve McQueen Motor Parade on Hollywood Blvd. to Kick-off the 30th Anniversary event at the Cinerama Dome Nov. 11.
The Jules Verne Festival and the City of Los Angeles are proud to announce the Kick-Off to the Steve McQueen 30th Anniversary Celebration. On Sunday November 7th, four days before the Official Tribute event, the Steve McQueen Motor Parade will be led by Chad McQueen, son of Steve McQueen, on the commemorative anniversary of his father's passing. The Parade, co-organized by the Jules Verne Festival with the City of Los Angeles will benefit the Jules Verne Educational Program, which serves the children of Los Angeles. It will start at 11am, with an impressive procession of Mustangs, Jaguars, Porsches (some of McQueen's favorite cars), run through Hollywood Blvd, stop at the Steve McQueen's Star on the Walk of Fame and will end at the intersection of Highland and Santa Monica Blvd., where Route 66 ends and where the Steve McQueen Square will be inaugurated by Steve McQueen's family, Councilmember Tom Labonge, District 4, and the founder of the Jules Verne Founder Jean-Christophe Jeauffre and Frédéric Dieudonné.
The Tribute Event: Thursday November 11, 2010 @ 7pm – Arclight Hollywood, Cinerama Dome – 6360 W. Sunset Blvd, Hollywood, CA 90028
Jules Verne Festival welcomes to the stage the McQueen family, the cast of Bullitt and special guest stars. His son Chad McQueen will accept the Jules Verne Légendaire Award to Steve McQueen on his behalf. Celebrities confirmed in attendance: Steve McQueen's grandson Steve R. McQueen (Vampire Diaries, Piranha 3D) actress and costar Jacqueline Bisset (Bullitt), actor and co-star Robert Vaughn (The Magnificent 7, Bullitt, the Towering Inferno, music composer Lalo Schifrin (Cincinatti Kid, Bullitt) and many more…
Steve McQueen would be 80 years old today.
Steve McQueen (1930-1980) American actor and race car driver, regarded as an American Legend and best known for his roles in The Magnificent Seven, Bullitt, The Great Escape, Papillon and The Towering Inferno.
Nov.7 @ 11AM – Free Public Event
Nov.11 @ 7pm - General admission: $25 / VIP tickets: $45
Infos and tickets @ http://www.julesverne.org
Email: fd(at)julesverne(dot)org / Contact: Frédéric Dieudonné: 213-864-4281
###