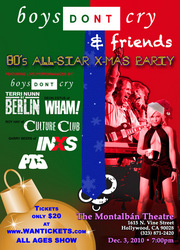 We will rock for the kids !
Malibu, CA (PRWEB) November 9, 2010
Boys Don't Cry & Friends are throwing the Xmas party of the year on December Third at the Montalban theater in Hollywood California to help raise awareness to the plight of America's public schools.
Joining Nick Richards and his band Boys Don't Cry are, Terri Nunn from Berlin, Roy Hay from Culture Club, Deon Estus from Wham, Garry Beers from Inxs, and local teen band Pt5.
Richards is slowly building up a team of 80's all star friends, and plans to take these benefit shows right across America next year.
Tickets are available from http://www.wantickets.com and are priced at only $20.
###