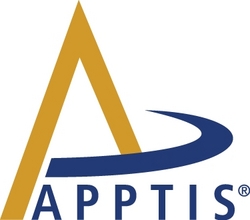 These systems are the vital data enterprise and telecommunications infrastructures that connect and enable our forces throughout the world
Chantilly, VA (PRWEB) November 8, 2010
Apptis, Inc., a leading provider of essential IT and communications services to key Defense and Civilian agencies, today announced award of the U.S. Army Project Manager Network Service Center (PM NSC) Command Center Upgrades Contract. This contact has a one year period of performance and is valued at over $26.7 million.
Apptis will support the Program Manager for the Network Service Center (PM NSC) Command Center Upgrade/Special Project Office (CCU/SPO) in its project management of the Defense Logistics Agency's (DLA) J6 Information Operations Project. This work supports the CCU/SPO's mission of supporting its user community with planning, program management, and support of systems to support efficient and economical computing, data management, electronic business, and telecommunication services to accomplish its mission objectives.
"These systems are the vital data enterprise and telecommunications infrastructures that connect and enable our forces throughout the world," said Skip Nowland, President and COO of Apptis. We are proud to support this organization and its mission critical work in defense of our nation."
Apptis will provide acquisition, installation, and technical support of worldwide telecommunications systems and interoperable command centers managed by the PM NSC CCU/SPO. Apptis will engineer, implement, and maintain a wide range of telecommunications services, from updating satellite communications capabilities to upgrading various established and developing messaging protocols and networking schemes used by the U.S. Armed Forces. The services include Local Area Networks (LANs), Wide Area Networks (WANs), Metropolitan Area Networks (MANs), the Internet, NIPRNET, SIPRNET, Video Teleconferencing (VTC) and other commercial and tactical interface networking systems.
About Apptis
Combining deep experience in federal government with expertise driving the latest innovative technology advancements, such as Cloud Computing, Apptis has been delivering mission critical IT and communication solutions to federal agencies for over 20 years. Apptis defines, optimizes, and implements IT solutions that help our clients achieve their mission. The company's core capabilities include Software & System Engineering, Enterprise Management, Network Engineering, Information Assurance, and Program Management. Our accomplished IT professionals deliver mission critical IT and infrastructure services around the world anytime, anywhere. Proven. Trusted. Secure. Apptis is privately held with headquarters in Chantilly, VA. http://www.apptis.com
###