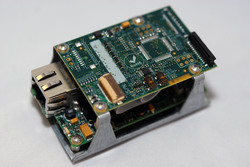 GigE Vision over 10 GigE is the most practical and advantageous response to the market demand for higher-speed sensors.
(PRWEB) November 6, 2010
Pleora Technologies, a world leader in networked video connectivity solutions for mission-critical systems, will showcase two live technology demonstrations of GigE Vision® over 10 GigE at the VISION 2010 trade fair in Stuttgart, Germany, as complement to its Industrial VISION Days presentation, "GigE Vision over 10 GigE: Full speed ahead."
With the popularity of higher-speed sensors intensifying, vision systems integrators and designers are now looking for greater interface speed. Pleora Technologies will demonstrate in its Industrial VISION Days presentation that the most practical and advantageous response to this market demand is to employ GigE Vision over 10 GigE. In addition, VISION 2010 attendees will be able to witness live technology demonstrations that showcase the speed, low latency and reliability of Pleora's 10 GigE technology.
In one example, the benefits of 10 GigE technology for an inspection system, such as a flat panel inspection system, will be shown. Pleora has combined its technology with an off-the-shelf camera so that designers may see first-hand how a networked system reduces overall system cost and complexity. The use of higher resolution sensors, as incorporated in this demonstration, can enhance already-sophisticated systems such as those used for pixel inspection in high-definition flat panels by enabling higher-speed inspection and lower-cost, lower-complexity cabling infrastructure.
The second demonstration will feature a camera created using three sensors, streaming aggregated video data using 10 GigE technology. By aggregating the multiple sensors into one 10 GigE output and creating a camera capable of panoramic views, system complexity dramatically decreases, as well as overall system costs.
Both applications employ both GigE Vision and GenICam™ standards, allowing greater interoperability for faster time-to-market. The sources in both demonstrations will stream live video to applications created using Pleora's eBUS™ SDK, which offers high-throughput capability for data reception at the PC and for transfer into analysis applications.
Interested attendees will have the opportunity to speak with Pleora's on-site application and system engineers to learn more about the advantages of choosing GigE Vision over 10 GigE as a video interfacing technology.
About Pleora
Pleora Technologies Inc. pioneered the use of Gigabit Ethernet for real-time video connectivity and revolutionized industrial imaging. With this spirit of innovation, Pleora engineers networked video connectivity solutions for mission-critical applications. Working with its rich portfolio of video networking elements, Pleora partners with customers to tailor solutions to their individual needs, from definition to deployment, with full integration support. Find out why more military, medical, and manufacturing integrators and OEMs choose—and stay—with Pleora, visit http://www.pleora.com.
VISION 2010 contact
Trade Fair Centre Stuttgart (Airport)
Stuttgart, Germany
November 9-11, 2010
Hall 4, Stand E 72 (FRAMOS booth)
Media contact
Julie Harrison
Corporate Communications
Pleora Technologies Inc.
Tel: +1-613-270-0625, ext 164
Julie.harrison(at)pleora(dot)com
###