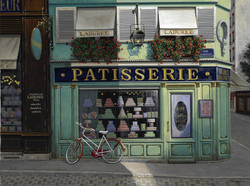 Greenwich, CT (Vocus) November 6, 2010
Martin Lawrence Galleries invites you to meet renowned romantic realist, Liudmila Kondakova, on her 3RD tour of the United States.
Meet Liudmila Kondakova Renowned Romantic Realist
During Her 3nd U.S.A. Tour
"Vive La France", November 2010
Exhibitions featuring the artist are taking place at the following Martin Lawrence Gallery locations:
Friday, November 5th La Jolla, CA 7 – 9 pm
Saturday, November 6th Newport , CA 4 - 7 pm
Sunday, November 7th Universal, City Walk, Los Angeles, CA 2 – 4 pm
Friday, November 12th New Orleans, LA 7 – 9 pm
Saturday, November 13th Oak Brook, IL 7 – 9 pm
Friday, November 19th Boston, MA 7 – 9 pm
Saturday, November 20th Dallas, TX 6 – 8 pm
Saturday, December 4th 366 Geary Street, San Francisco, CA 2 – 4 pm
747 Beach Street, San Francisco, CA 7 – 9 pm
Exhibits will feature Ms. Kondakova's hand-signed limited edition serigraph prints as well as her very popular miniature hand-signed stone lithographs. The tour will also present a very rare opportunity to acquire from over twenty new charming original gouaches and acrylic paintings that Ms. Kondakova has based on a romantic walking tour through Provence in the French countryside. "Each of these delightful originals captures the romance of a journey through the Provence region complete with lavender fields, quaint café's and boating along the Riviera. Based on the positive early response to these works, we fully expect that all be sold before the end of the tour", cautions Eric Dannemann, President of Martin Lawrence Galleries. Collectors should contact their local galleries immediately for information on available paintings and prints.
Liudmila Kondakova works are meticulous in detail and rich with color, clarity and light. Since her childhood in Russia, Kondakova has been fascinated by traditional art. Graduating from the Grabar Center in Moscow, Russia's School of Scared Arts and the Moscow Art Institute, she credits her apprenticeship with the monastic icon painters at St. Alexi Cathedral as her most influential training. Ms. Kondakova has stated that she was
Martin Lawrence Galleries is renowned for offering the finest quality artworks and for maintaining the highest level of integrity and ethical standards in service to their clients. Over the last fifteen years, they have loaned two hundred fifty artworks to over thirty museums world-wide.
For more information about the works of Liudmila Kondakova, the "Vive la France" tour and the art offerings at Martin Lawrence Galleries, visit http://martinlawrence.com Follow us on Twitter at http://twitter.com/TweetMLG
November, 2010
Contact: Maria Saraceno Ward
203-869-9500, ext 8248
mward(at)chalk-vermilion(dot)com
###