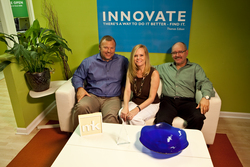 "We are pleased to be recognized as one of the fastest growing companies in the area. With our growth, we are able to employ more people and bring manufacturing back to this part of the state." Chris Gilder, Chief Innovation Officer
Aberdeen, NC (PRWEB) November 8, 2010
Meridian Kiosks, a leading provider of self-service solutions, was recognized as a winner of the Triangle Business Journal's Fast 50.
Nick Van Wyk, Chief Executive, attributed Meridan's growth to the fact that, "There is greater competition for the consumer's dollar and companies have to expand services and offerings as well as create differentiated customer experiences. Self-service allows them to achieve all these goals without a significant increase in overhead."
Meridian Marketing Director, Sheridan Orr, stated, "The global trend is that customers are demanding more self-service. Just recently, SITA released a study where 70 percent of travelers said they want more self-service. Because the airline deployments have been so successful we are seeing these numbers reflected across other industries."
When asked how the company plans to continue their growth trajectory, Van Wyk added, "We will focus on building a vibrant ecosystem of partners to ensure that we can offer complete solutions across various verticals. Also, the demand that we are seeing in the US is even greater abroad. Therefore, we'll be looking at global expansion to address this market opportunity."
The company plans to fuel this growth by continuing to invest in its operations in Aberdeen. Chris Gilder, Meridian Founder and Chief Innovation Officer said, "We are pleased to be recognized as one of the fastest growing companies in the area. With our growth, we are able to employ more people and bring manufacturing back to this part of the state."
To be eligible for the Fast 50, a company must be privately held and have revenues exceeding $4 million dollars in 2009. Local businesses are then ranked based upon their revenue growth and profitability growth factors.
# # #