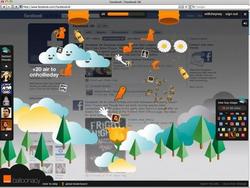 (PRWeb UK) November 8, 2010
Mobile phone operator, Orange today announced the return of the award winning* online game Balloonacy, the world's first internet balloon race. Building on the success of the last Balloonacy campaign in which over 40,000 'pilots' flew balloons across a racecourse of over 1,500 selected websites racking up a total of 63 million online miles, the latest campaign is set to be bigger and better and most importantly, an even richer digital experience.
As before, 'pilots' all begin from the same starting point - the Balloon Race home page — then in an unique digital experience, race their balloons across the best sites on the net including Universal Music, Facebook UK, The Sun and NME, in an attempt to be the first to reach the edge of the internet. Participants can once again choose their own Orange animal balloon (which mirror the different mobile phone deals ), with the opportunity to name their balloon and add a personal message to encourage friends to give them a boost.
Balloonacy is set to push social media to its limits. Not only can players 'wave' to each other, they can also boost each others' balloons, use tools built specifically for Facebook and Twitter so players can find friends and follow each other, chat, share their success, boast about their progress towards the end of the internet and even announce performance badges achieved.
And there are of course amazing prizes to be won. The fastest overall balloon will win a super deluxe, eleven-night, five star trip to Kenya, including an unforgettable hot air balloon ride over the Masai Mara. Other prizes include a weeks holiday for two in Egypt and free cinema tickets for a year.
Spencer McHugh, Director of Brand at Everything Everywhere, the company that runs Orange commented, "At Orange, we're committed to innovating in the digital space, by finding new and exciting ways to surprise consumers through engaging, stand out campaigns. We hope Balloonacy continues the award winning success seen in 2008 and sets a new standard for digital campaigns."
The Orange Balloon Race, created by Poke, will run from 8th November to 17th November. For information and to register, please go to http://www.orange.co.uk/playballoonacy Happy racing!
Notes to editor
*The Balloonacy campaign in 2008 received nine awards including a 'Webby' in the telecommunications category and globally was one of the Top 10 most awarded interactive projects of 2009.
About Orange UK
Orange is the key brand of the France Telecom Group, one of the world's leading telecommunications operators. With almost 131 million customers, the Orange brand now covers Internet, television and mobile services in the majority of countries where the Group operates.
In the UK, Orange provides high quality GSM coverage to 99% of the UK population, and 3G coverage to more than 93%. At the end of March 2010, Orange had more than 17.305 million customers in the UK - 16.442 million active mobile customers and approximately 863,000 fixed line internet customers.
Orange and any other Orange product or service names included in this material are trade marks of Orange Brand Services Limited.
On July 1 2010, the company became part of Everything Everywhere, one company that runs two of Britain's most famous brands - Orange UK and T-Mobile UK - with plans to transform the industry by giving customers instant access to everything, everywhere, offering them the best value, best choice and best network coverage in the country. Everything Everywhere Limited is registered at Hatfield Business Park, Hatfield, Hertfordshire, AL10 9BW under the registered company number 02382161.
For more information please call the Orange Press Office 0870 3731500 or visit http://www.orange.co.uk/newsroom
# # #