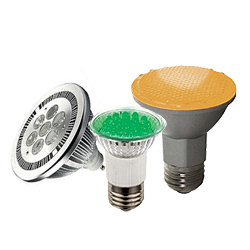 LED technology is making an important contribution to environmentally friendly lighting in the stage & studio, DJ, club, and house of worship markets.
Brooklyn, NY (PRWEB) November 10, 2010
A 2006 report by the Environmental Protection Agency contained a surprising fact: residential production of carbon monoxide, of which home lighting is a large part, was nearly equivalent to the amount of CO2 created by personal automobiles. Why then are consumers more aware of and more willing to pursue energy efficient automobiles than they are environmentally friendly lighting? According to BulbAmerica's lighting experts, this is because consumers believe energy efficient light bulbs aren't that much more efficient than incandescent bulbs and that their options when it comes to bulb shapes are limited. BulbAmerica aims to change this view by offering their new line of LED light bulbs and LED stage & studio products that gives consumers high performing LED light bulb options in every bulb shape needed. High performing LED bulbs shine for 35,000 – 100,000 hours compared to incandescent bulbs, which last for 1,000 - 2,000 hours and compact fluorescent light (CFL) bulbs which have a life hour rating of 6,000 – 15,000hrs. LEDs have a luminous efficacy of 18-22 lm/w compared to the 15 lm/w luminous efficacies of incandescent bulbs and CFLs, the most commonly used type of light bulb and their most common replacement respectively. When it comes to long lasting and efficient light LEDs are light years ahead of the alternatives. What makes LEDs useful for nearly every bulb shape is that an LED light bulb is typically comprised of multiple LED light sources, thus the individual LEDs can be configured in any arrangement and fit into any housing. It is for this reason that LED light bulbs are popping up in nearly every bulb shape and application. In the home, LED MR16s and A-shape bulbs are becoming increasingly common. LED MR16s are available in nearly every variation of MR16, from MR16s with G9.5 and GU10 bases to JDR MR16s and MR11s. For your chandeliers and sconces, LED light bulbs are available for the decorative lighting market with traditional and RGB color changing candelabra and globe bulbs. If consumers have track lighting inside or flood lighting outside your home, LED PAR16s, PAR20s, PAR30s, and PAR56s are available to provide you energy efficient lighting for general home illumination and security. One especially important quality of LED bulbs is that they produce little to no heat; this not only prolongs the life of the bulb but also keeps your home cooler, saving you energy and money not only on your lighting but also on your air conditioning as well.
BulbAmerica's LED products are making an important contribution to environmentally friendly lighting in the stage & studio, DJ, club, and house of worship markets. LED PAR 64 cans for example, most which do not require more than 60w for operation, are replacing incandescent and halogen PAR64s that use hundreds of watts. Not only does this reduce energy draw, but it allows more fixtures to be added to lighting circuits while keeping the theatre or stage cool. Because LED PAR cans have built-in dimmers, electricity and space consuming dimmer packs are not needed. LED lighting effects are also replacing incandescent DJ effects that have been traditionally powered by halogen lamps, contributing to huge energy savings and carbon footprint reduction.
Before choosing LEDs, it is important to be aware of discrepancies in quality among LED light bulbs. Lesser quality LED light bulbs are not as bright or as long lasting as higher quality LEDs and sometimes not even as bright or efficient as the technologies they are supposed to replace. In order to maximize energy savings it is therefore important that consumers use discretion. Remember that no matter how promising LED technology is, if the LED product is of poor quality, all of the environmental benefits of the technology disappear. BulbAmerica is committed to providing energy efficient lighting products that work and will help reduce consumers' carbon footprints and electricity bills. BulbAmerica carries the highest quality LED light bulbs and stage & studio products from the most trusted names in LED lighting including Ushio, Osram-Sylvania, Feit Electric, and others.
For more information about BulbAmerica.com or their LED products, or for more ideas regarding how to make home and stage & studio lighting more energy efficient, visit http://www.bulbamerica.com or call 1-877-650-0775.
###