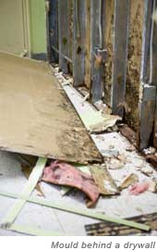 Notice the increase in illnesses related to mould in the last 40 years, since the use of fillers began.
(PRWEB) November 15, 2010
On November 26, 2010 an announcement will be made outlining the licensing strategies for Rx100 to trade publicly. Rx100 is the only No Extra Cost alternative to mould. The link between fillers and the hosting of mould was discovered by Donald Meade founder of Rx100 Inc. over the last three (3) years. Patent filed in 2003 did not link hosting of mould to filler which was revealed only in newer filings in 2008.
"What day and age do we live in when mould is still a problem." "Rx100 is not just a company it's a company with a cause." Jesse Sulidis Entertainment Tonight Canada
"Rx100 and Simone Autosports along with Crown Modular Homes is a perfect fit." Anthony Simone #95 Canadian Nascar.
###