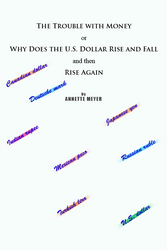 New York, NY (Vocus) November 6, 2010
The Trouble with Money or Why Does the U.S. Dollar Rise and Fall and Then Rise Again, a new book by Annette Meyer, has been released by RoseDog Books.
The Trouble with Money… reflects on the development of monetary theory and policy, including concentrated coverage of central banking and interest rates, exchange rates and foreign trade, and balance of payments and international currency reserves.
Annette Meyer's attention then turns to the path of real exchange rates and other macroeconomic variables for US dollar in contrast to those of China, Germany, India, Japan, Mexico, Russia, and Turkey. In addition, growth of the Gross Domestic Product and other related elements of the national economics from 1995 to 2004 are studied.
At the close of the work, further investigation of price indexes, money supply, fiscal balance, currency flows, external debt, and a host of other participating economic activities of the eight nations yields significant clues as to why the US dollar repeatedly rebounds on the international scene.
Money has been on Meyer's mind since her childhood days of clothing budget allowances, financing holiday presents, and gaining college tuition funds. However, her formal education in economics began at Brooklyn College of CUNY, continued at New York University, and was enhanced at Hunter College and Graduate School and University Center of CUNY.
Meyer has been an Adjunct Professor of Economics at Hunter College of CUNY, President and founding member of Economists of New Jersey, and Professor Emeritus of the College of New Jersey. She has written many books and articles on money, budgets, and global economic challenges.
The Trouble with Money or Why Does the U.S. Dollar Rise and Fall and Then Rise Again is a 106-page paperback with a retail price of $15.00. The ISBN is 978-1-4349-8222-3. It was published by RoseDog Books of Pittsburgh, Pennsylvania. For more information or to request a review copy, please visit our virtual pressroom at http://www.rosedog.com/pressroom or our online bookstore at http://www.rosedogbookstore.com.
###