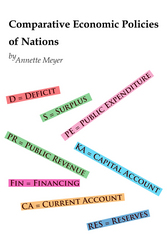 New York, NY (Vocus) November 6, 2010
Comparative Economic Policies of Nations, a new book by Annette Meyer, has been released by RoseDog Books.
As the world grows smaller electronically and otherwise, nations become more integrated in global space. Impacts on each other from a fiscal, financial, and trade perspective cannot be set aside.
Comparative Economic Policies of Nations offers a systematic approach to evaluating the links among nations primarily through comparison of their internal aggregate economic variables in real time. These variables are related to national fiscal balance and overall trade balance of each nation, all as a proportion of their respective GDP. Outcomes of the model for China and France in the year 1995 illustrate the model at work.
A scoring card to record boundary ranges for specified macroeconomic variables by nation is suggested to give observer nations the opportunity to follow preferred outcomes of other economies.
Connections between peoples and nations are a never ending source of inspiration for Meyer's work. Equations and numbers are ways to express the connection, together with words to describe the pictured events.
In the past, Meyer has used these methods to examine the U.S. federal budget in articles for Public Budgeting and Finance in Winter 1986, The American Economist in Fall 1991, and in two books entitled Evolution of United States Budgeting in 1989 and 2002.
Forthcoming works include The Subject Is Interest Rates, Dominion of Interest Rates: Credit and Debt, U.S. Federal Budget, Global Arena, and Mini-World of 20 Nations in Real Time: 1990 to 2007, all from the publisher of this work.
Meyer's credentials include Professor Emeritus of the College of New Jersey and former Adjunct Professor of Economics at Hunter College of CUNY.
Comparative Economic Policies of Nations is a 32-page paperback with a retail price of $9.00. The ISBN is 978-1-4349-8160-8. It was published by RoseDog Books of Pittsburgh, Pennsylvania. For more information or to request a review copy, please visit our virtual pressroom at http://www.rosedog.com/pressroom or our online bookstore at http://www.rosedogbookstore.com.
###