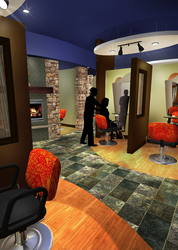 We're providing a beautiful place staffed with highly skilled professionals that will help inspire guests to make positive changes in their lifestyle and beauty approach,
San Diego, CA (PRWEB) November 8, 2010
On the day after Thanksgiving, the new Quattra Via Aveda Salon Spa will open at The Forum in south Carlsbad, unveiling a unique concept themed around nature's elements and determined to change the face of beauty.
During its grand opening weekend Nov. 26-28, Quattra Via will showcase its cutting edge services and amenities with complimentary salon and spa samplings, including:

Drawings for Complimentary Salon and Spa Packages
Ask the Experts Styling Tips
Shoulder Massage
Paraffin Hand Treatments
Make-up Application
Product Sampling
According to company co-founder Brittany Adamson, the new 3,600-square-foot Quattra Via will "give guests a transformative experience in a beautiful setting that goes far beyond their wildest expectations."
"We wondered why beauty salons aren't beautiful," says Adamson. "We believe we can alter that long-standing perception by offering a natural, holistic approach and memorable experience that caters to both inner and outer beauty."
Themed around nature's elements – water, fire, earth and air – Quattra Via was designed by Adamson to be a new model in the beauty industry, a much-needed makeover from head-to-toe and inside-to-outside.
According to Adamson, Quattra Via means "the way of four" or the "four paths," and is based on the sacred geometry of nature. In this spirit, the salon's physical space and service philosophy showcase nature's elements and seasons. Many of the colors, aromas, lighting, textures and images will change according to the four seasons. And instead of stylists and therapists, there are salon "beauty artists" and spa "balance artists" to help guests embrace the creative and rejuvenating spirit of nature.
"We will open on Nov. 26 with a colony of 20 full-time beauty, balance and unity artists," said Adamson.
In addition to its lush botanical-rich environs, the more revolutionary offerings at Quattra Via include the Blow Dry Bar – a wash-and-style-only service that's all the rage in Los Angeles and New York – and the So Sound Room with its stress-reducing chairs that deliver musical vibrations that resonate throughout the entire body.
Instead of the typical assembly line rows of styling chairs, Quattra Via's beauty artists have their own secluded studio for privacy and serenity, while several additional stations are reserved exclusively for the Blow Dry Bar.
Quattra Via's relaxing and reclusive spa area is tucked into the interior of the salon and comprises three well-appointed private suites. Balance artists provide a full range of body and skin treatments including facials, wraps, scrubs and massages.
The stylish and eco-friendly salon and spa was designed by Colorado-based architect John Dengler and Associates in conjunction with David Goldberg of Alba Design in Encinitas.
Award-winning interior designer Jeanette Houston of Solana Beach-based Chevalier Inc., created open and inviting reception and retail areas, as well as other interior treatment and styling rooms, with an eye toward nature and a nod to the abundant flora and fauna that abound in nearby canyons and beaches.
"Green" elements such as recycled flooring, LED lighting and non-toxic fabrics and paints are evident throughout the salon, and Quattra Via will use recycled paper and plastic products. In addition, the salon will save cut hair to make wigs for cancer patients and mats to soak up oil in on the Gulf Coast.
"We're providing a beautiful place staffed with highly skilled professionals that will help inspire guests to make positive changes in their lifestyle and beauty approach," explains Adamson, a beauty artist trained at the famed Aveda Institute in Denver.
Aveda's plant-based hair care, skin and body care, makeup, Pure-Fume and lifestyle products will be exclusively featured at Quattra Via and available for purchase.
Quattra Via Aveda Salon Spa and Inner Beauty Gallery is located at The Forum, 1905 Calle Barcelona, Suite 204, in coastal Carlsbad, Calif. A variety of spa and salon packages are available as well as a la carte services and treatments on a walk in or appointment basis.
For more information about Quattra Via or to find out about the array of inner and outer beauty services and treatments, visit http://www.quattravia.com. To reserve an appointment with a salon beauty artist or spa balance artist, please call 619-414-5444.
# # #