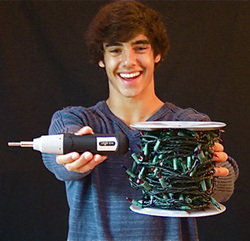 When customers realize the time and money invested in untangling, fixing and replacing light strings, especially LED lights, they will see that STOR'EM™ is a no-brainer
Allentown, PA (PRWEB) November 9, 2010
The new STOR'EM™ string light storage system made its television debut today on QVC, as a featured Christmas product for the holidays. The device delivers on its promise to eliminate string light tangles and storage nightmares with a revolutionary system that carefully automatically winds light strings onto a storable spool with the push of a button. Homeowners will easily be able to add and remove lights without the stress this holiday season.
Commercial airline pilot, Cory Strong, was fed up with the problem of putting up, taking down, and putting away his Christmas lights each year, and the chaotic tangle of lights that would result. Knowing that others suffered from similar misery, Strong set out to develop a better way to handle the task. After building and testing several prototypes, he hit on a patent-pending design that was safe, portable, light-weight and durable. After years of development the product is ready for the masses.
Named "STOR'EM™", the tool consists of an electric driver that turns a durable spool that winds any string decoration. Garlands, bead strings, and light strings easily wrap around the spool to make for easy storage.
Safety And Durability a Priority
Strong spent a great deal of development resources making sure that STOR'EM™ would be very safe to use. As an example, the special driver that turns the spool was designed to turn the spools at a safe speed during operation and to prevent damage to light strings while minimizing the time needed to do the job. The spools themselves are made with 100% recycled plastic that is virtually indestructible and specially equipped to accommodate the driver. They are easily stacked and stored in a cabinet or box.
"When customers realize the time and money invested in untangling, fixing and replacing light strings, especially LED lights, they will see that STOR'EM™ is a no-brainer," Strong points out. The driver and spool set retails for $19.95 plus shipping, and additional spool sets can be purchased for $11.50 plus shipping. The STOR'EM™ website will take direct orders from customers at http://www.christmaslightorganizer.com.
About STOR'EM™
Incorporated in 2004, Aloft Enterprises Inc. LLC is a Pennsylvania-based product-development company founded by commercial airline pilot and entrepreneur Cory Strong. We design, produce and market simple to use, affordable products that help with common tasks.
# # #