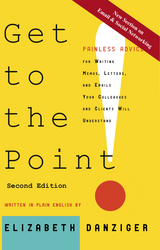 "Act in haste; repent at leisure." This proverb describes what happens when we rush to hit "Send".
Los Angeles, California (PRWEB) November 9, 2010
You're walking innocently across a field. Suddenly you stumble on a hidden land mine. Pow! Disaster strikes. This kind of event happens daily in organizations where people use email extensively. Elizabeth Danziger, author of Get to the Point! Painless Advice for Writing Letters, Memos, and Emails Your Colleagues and Clients Will Understand, 2nd edition, asked business people worldwide to talk about the Email Land Mines™ they have uncovered. In a series of online articles, she shares the results of her research into this area of business writing.
The first land mine is: Writing in Haste. "Act in haste; repent at leisure," says the proverb. Something about the immediacy of email makes us feel pressured to respond immediately, often before we've fully thought out our response. In the rush to hit "send", we might respond before we have all the information we need, or before we've let negative feelings settle down. Most land mines could be avoided by simply not rushing to send out emails. For more on this land mine and ways to avoid it, go to article.
The second land mine is: Cherishing the Illusions of Privacy and Confidentiality. When we're sitting at our own work station, we develop the cozy feeling that "It's just me and my computer." Alas, this feeling is an illusion. In reality, emails last forever. They are stored on servers from which they can be plucked from oblivion by any IT person worth his salt. They can – and presumably will – be forwarded directly to the person whom we most do not want to read them. For more information and suggestions, go to article.
The third land mine is: Sending Email to the Wrong People. This is huge. One woman wrote of accidentally sending a list of reasons why a manager should be terminated directly to the manager. Another told of sending confidential deal details to a reporter whose name was similar to her colleague's. Yet another person told of receiving highly sensitive emails that are addressed to people whose names are similar to his. This article contains nine ways that people can stumble by mis-addressing – and this list doesn't even include hitting "reply all"! To read the complete list and see how to avoid disaster, go to article.
Danziger turns bad writers into good writers through her writing training programs. She also offers customized programs in using email effectively. The remaining land mines will be explored in upcoming articles. Danziger can be reached at lizd(at)worktalk(dot)com or (310) 396-8303. For business writing tips or to sign up for the free online course in Ten Principles of Effective Email, visit http://www.worktalk.com.
# # #