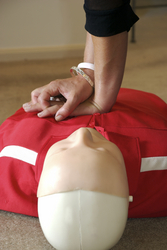 look, listen and feel for breathing
San Francisco, CA (Vocus) November 6, 2010
For more than 40 years, we've learned the ABC's of CPR - Airway, Breathing and Compressions. Now, in the new 2010 AHA Guidelines for CPR, the American Heart Association in San Francisco recommends C-A-B, Compressions, Airway and Breathing. The new C-A-B sequence allows rescuers to start with the simplest step, chest compressions, and helps to remove barriers to starting CPR immediately. The American Heart Association Guidelines for CPR continue to emphasize high-quality CPR, focusing on delivering effective chest compressions with minimal interruptions.
Many of the changes and recommendations included in the new CPR guidelines are designed to simplify CPR and increase bystander response, ultimately saving more lives. In several recent studies it was determined that a stranger is much more apt to preform CPR on someone they do not know if mouth-to-mouth is not expected of them. Some additional key changes include:

A new recommended CPR compression depth of at least 2 inches
A new recommended CPR compression rate of at least 100 beats per minute
The elimination of "look, listen and feel for breathing"
The continued recommendation that untrained rescuers provide Hands-Only CPR
New protocols for EMS activation and first-aid training
And several more amendments to the old guidelines
Safety Training Seminars of San Francisco will be sending all of our instructors to the 2010 American Heart Association Update Conference during the month of November. It usually takes 6-9 months to update all our instructors and for the certifying agencies to update their training materials, DVDs, and books, but we expect to be teaching the new CPR standards starting in January. Safety Training Seminars of San Francisco is committed to making sure CPR in the Bay Area is up to date on these new CPR guidelines.
###