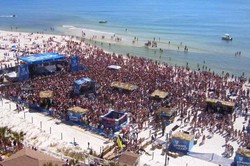 Corporations are attracting the Gen Y'ers with the hot yearly event known as Spring Break.
Panama City Beach, FL (PRWEB) November 10, 2010
Collegiate Marketing Group LLC, a leading Youth Marketing and Promotion company specialized in spring break events at Panama City Beach, reports fielding numerous early requests from corporations vying to tap into the lucrative youth market. Sixty million strong, Gen Y is the largest demographic group since the baby boom. It's essential corporations find unique ways to reach the youth market and enhance their visibility to build brand awareness and product loyalties.
Corporations can reach Gen Y with one hot yearly event -- Spring Break. Every March hundreds of thousands of students from across the nation descend on the beaches of destinations such as Panama City Beach Florida for a mix of sun, fun, and parties. Since Panama City Beach Florida is known as "The Spring Break Capital of the World" and attracts a mass student audience upwards of 500,000, marketers are using Spring Break to put their products in front of the eyes of these young affluent college students. Corporations feel that one of the great aspects of this marketing event is the fact that most of the college students who travel to Spring Break are influencers and trendsetters- who bring friends and involve them in their buying decisions. This gives corporate sponsors more bang for their marketing buck.
Spring Break has changed its characteristics since Generation Y began to add its touch to the tradition. While partying still plays a central role in Spring Break rituals, planned activities have expanded, each includes more on-site advertising and corporate sponsors. The marketing message has also switched to advertising computer-related items, video games, movies and TV shows, and other youth-oriented consumer products.
What it boils down to is this: marketers get thousands of college kids in one spot, each with wads of money they are eager to spend. In a hot spot like Panama City Beach, marketers have the makings of a massive method of product promotion and service marketing. College students on these Spring Break trips likely will have large amounts of spare cash for their vacation and are more likely to spend this cash than any other types of tourists.
# # #