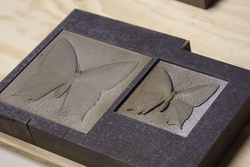 At OMAX, we are constantly looking for ways to increase the value that customers receive from our machines
Kent, Washington (PRWEB) November 9, 2010
OMAX Corporation has released Intelli-ETCH, a new software tool that allows the company's abrasive waterjet machining centers to create 3D patterns in a wide array of materials. Available free of charge to all OMAX customers, the patent-pending Intelli-ETCH package was added to version 15.0 of OMAX's highly successful Intelli-MAX® software.
With Intelli-ETCH, operators create or import a grayscale version of the image or CAD file of the feature they wish to machine. The software then enables completion of the 3D etching by translating the brightness values of individual pixels into a function of Y-axis traverse speed. Unique and proprietary algorithms are integrated to control acceleration, deceleration, turning and cornering.
"At OMAX, we are constantly looking for ways to increase the value that customers receive from our machines," says Carl Olsen, senior software engineer at OMAX. "With Intelli-ETCH, we identified an opportunity to capitalize on the strength of our software and the speed of our machines to introduce an entirely new functionality. As with all of our software innovations, Intelli-ETCH is free to all OMAX owners, allowing customers to get even more out of the machines they're already using."
Intelli-ETCH is ideal for applications that require low precision, but high visual aesthetics, such as artistic components or etching of words or logos. As a software-based solution, Intelli-ETCH does not require any special accessories or tools, allowing cutting and etching of parts to take place in a single setup.
About OMAX
Headquartered in Kent, Washington, OMAX Corporation is the world leader in abrasivejet machining. Each OMAX JetMachining® Center and MAXIEM® JetCutting Center is powered by the company's innovative control software, bringing affordable abrasivejet technology to an expanding and diverse group of industries. For more information on OMAX products and accessories, contact Sandra McLain at 800.838.0343 or visit http://www.omax.com.
# # #