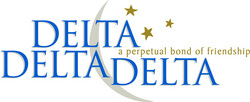 Delta Delta Delta is thrilled with the exposure the Fat Talk Free® Week campaign was able to receive
Arlington, TX (Vocus) November 6, 2010
Delta Delta Delta Fraternity announced the conclusion of their annual weeklong campaign to bring awareness to body image issues worldwide and to promote the removal of 'fat talk' from conversations. Fat Talk Free® Week, a campaign that began in 2008, was celebrated October 18-22, 2010. Fat Talk is described as the statements made in everyday conversations that reinforce the unrealistic thin-ideal standard of beauty.
"Delta Delta Delta is thrilled with the exposure the Fat Talk Free® Week campaign was able to receive," said Cari Cook, Executive Director of Tri Delta. "A successful campaign is about more than just creating awareness for the cause. It's about truly touching the lives of individuals, reshaping opinions and being a catalyst for change."
Fat Talk Free® Week touched more than 88,000,000* women, men and children. Campaign spokeswoman Stacey Nadeau, a Delta Delta Delta member and former model for Dove's soap Campaign for Real Beauty, was quoted on CNN.com and other noteworthy media outlets throughout the weeklong international campaign. Other celebrities, including Jillian Michaels, mentioned Fat Talk Free® Week on their Twitter feeds. The viral campaign gained supporters through its Facebook page, http://www.facebook.com/FatTalkFree, with nearly 13,300 fans, Twitter and other social networks.
"Over ten million women are dealing with eating disorders in this country, which is greater than the number of women suffering from breast cancer," said Dr. Carolyn Becker, Ph.D, and FAED, of Trinity University. "For one week, Delta Delta Delta's campaign focused the spotlight on communicating a positive body image for women. Our hope is that people will help extend the campaign beyond just this one week and will remove 'fat talk' from their daily conversations and encourage others to do so as well. Our Facebook page will continue to collect pledges from individuals committed to eliminating 'fat talk'."
Fat Talk Free Week® 2010 is presented by Delta Delta Delta Fraternity and The Center for Living, Learning & Leading. Partners of the 2010 campaign include Bill Highway, The Succeed Foundation, Herff Jones, The Guest Experience, Studio A: Pilates, KORRES USA, Stacy Nadeau and The Academy of Eating Disorders.
For complete information about sponsors of the campaign visit: http://www.bodyimageprogram.org/action/ftfw/sponsors/
About Fat Talk Free® Week
Fat Talk Free Week was borne from Tri Delta's award-winning program Reflections: Body Image Program® . Launched in 2008, Reflections® , was co-developed by Carolyn Beck, Ph.D, FAED of Trinity University and the local sororities at Trinity University. Reflections® is the first program of its kind proven to reduce eating disorder risk factors and improve body image perceptions among participants. To date, Tri Delta has brought Reflections to 58 Tri Delta chapters and over 88 campuses, impacting more than 10,000 women, with another 20 campuses scheduled by spring of 2011.
About Tri Delta
Founded in 1888, Tri Delta is a leader among social Greek organizations through its passion for progress and visionary thinking. Through partnerships with nationally recognized organizations like St. Jude Children's Research Hospital, award-winning publications like The Trident and innovative collegiate and alumnae initiatives, Tri Delta is committed to leveraging our timeless values to revitalize the sorority experience. For more information, please visit http://www.tridelta.org or call (817) 633-8001.
*Figure based on unique visits to Delta Delta Delta's Reflections web site, unique views of campaign videos, local events, Facebook fans, Twitter followers, decals distributed, Time online readership, CNN.com readership, MSNBC.com readership and Google press release distribution figures.
###