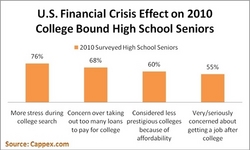 This year on Cappex, scholarship applications are considerably up, and the majority of posts to our Facebook page are concerning the issue of how to pay for college
Highland Park, IL (Vocus) November 8, 2010
A new study of more than 2,000 high school seniors nationwide reveals that college bound students are seriously concerned about not only taking out too much money in loans to pay for school, but also about how they will repay them after graduating.
This study is a follow-up to research conducted last October by Cappex.com, a comprehensive college search and scholarship portal.
Even with reports of positive economic trends, 67% of this study's surveyed seniors say their anxiety over taking out too many loans to pay for college stems directly from the U.S. financial crisis.
To compound the issue, while recent studies show that the job outlook for the college graduating Class of 2011 is considerably higher than the previous year, 55% of high school seniors surveyed in this study are either very or seriously concerned about finding a job following college. This is compared to the 48% of students asked the same question a year earlier. The economy may be slowly improving, but this class of high school seniors does not seem to be feeling its improvement.
"This year on Cappex, scholarship applications are considerably up, and the majority of posts to our Facebook page are concerning the issue of how to pay for college," said Chris Long, president of Cappex.com. "Loans can be an important part of a student's funding mix to pay for college, but they should be weary of relying on them too heavily."
It is also interesting that 60% of surveyed high school seniors are considering less prestigious colleges because of affordability. Only 55% of high school seniors expressed this concern in 2009.
# # #