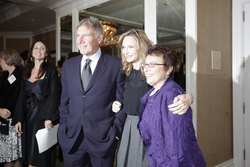 Beverly Hills, CA (PRWEB) November 10, 2010
Peace Over Violence is a social service non-profit agency dedicated to the elimination of sexual and domestic violence and all forms of interpersonal violence. Established in 1971 as the "Los Angeles Commission on Assaults Against Women" (LACAAW) the agency provides crisis intervention services, violence prevention education to area youth, and case management and counseling services to survivors of violence.
The evening honored the following individuals and corporations who have made a difference in the struggle to eliminate violence against women, men, youth and children:
Southern California Gas Company: Verizon Wireless Hopeline Corporate Award
Los Angeles City Controller, Wendy Greuel: Public Service Award
Founder & Executive Director, Homeboy Industries, Father Gregory Boyle, S.J. :Compassion Award
ABC's All My Children: Media Award, presented to Agnes Nixon by Michael E. Knight
Cheryl Burke: Voice Over Violence Award, presented to Cheryl by her "Dancing With the Stars" dance partner this season, Rick Fox.
The evening, raised over $275,000 for the non-profit agency. Since its inception in 1971 as the Los Angeles Commission on Assaults Against Women, Peace Over Violence has grown from a volunteer crisis hotline to an agency with a sizeable staff and an excellent reputation. It is widely recognized as a social partner in issues of violence prevention, health, education, human rights, and civil society. The organization, offers a wide range of programs which encompass 'one on one' intervention services and 'one on one' violence prevention services
More information about Peace Over Violence is available at http://www.peaceoverviolence.org.
Press Contact:
Rona Menashe
romenashe(at)aol(dot)com
###