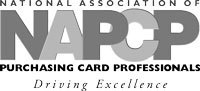 The NAPCP Annual Commercial Card and Payment Conference brings together hundreds of professionals from the public and private sectors to learn what it takes to manage these complex programs most effectively, says Laura Flandrick, NAPCP Managing Director
Minnetonka, MN (PRWEB) November 8, 2010
The National Association of Purchasing Card Professionals (http://www.napcp.org) has opened registration for its 12th Annual Commercial Card and Payment Conference scheduled for April 11-14, 2011, at the Paris Las Vegas Hotel (http://www.napcp.org/2011). More than 600 end-users and providers from the public and private sectors are expected to gather under one roof to experience unmatched education and peer networking at the industry's premier event of the year.
This year, the NAPCP modified the conference name to encompass all Commercial Card and payment vehicles, reflecting the broad content the association has been delivering in recent years. Major areas of emphasis include Purchasing Card, Travel & Entertainment Card, automated payables, Ghost Card, Declining Balance Cards and many more. The NAPCP continues to feature education in global expansion, regulatory compliance, mitigation of fraud and misuse, cardholder compliance, supplier strategies, and new technology solutions. The NAPCP also offers a full-day, pre-conference Purchasing Card Basics Workshop for an additional fee.
"The NAPCP Annual Conference is the one time each year that hundreds of professionals from the industry come together to share challenges and success stories and take away new ideas for managing these complex programs," says Laura Flandrick, managing director. "Nowhere else can they find the level of detail and depth on building a successful program, recruiting suppliers, educating cardholders across the organization, and so much more," adds Diane McGuire, managing director.
The NAPCP is pleased to feature Doctors Mahendra Gupta and Richard Palmer of RPMG Research Corporation during the April 13 General Session, who will summarize findings from their latest, comprehensive North American Purchasing Card market survey. The presentation will include current "best practice" use of Purchasing Cards and program management activities. In addition, the speakers will address emerging trends, including an examination of electronic accounts payable (EAP) solutions and the related implications for program growth.
The conference brings together Commercial Card and payment professionals from the Corporate, Government and Education sectors with a worldwide sphere of influence. Exhibitors are set to discuss a variety of solutions; many offering product and technology demonstrations to end-user audiences. Many provider organizations are offering scheduled, one-on-one meetings with individual end-users. Networking events are planned throughout the four-day event, including an Industry Networking Luncheon, roundtable discussions, two attendee receptions in the Exhibit Hall and an NAPCP Members-Only reception.
The National Association of Purchasing Card Professionals (NAPCP) is a membership-based professional association committed to advancing Commercial Card and payment professionals and industry practices worldwide. The NAPCP is a respected voice in the industry, serving as an impartial resource for members at all experience levels in the public and private sectors. The NAPCP provides unmatched opportunities for continuing education and peer networking through its Annual Conference, Regional Forums, audio calls, website, newsletter and regular communication. The association sponsors research and publishes timely and relevant white papers, survey results and other documents. The NAPCP launched the Certified Purchasing Card Professional (CPCP) credential in 2006. Please visit http://www.napcp.org to learn more about Commercial Card and payment programs in general, the value of membership, current member demographics, upcoming events and benefits of becoming a partner sponsor.
Contact :
Lyssa Campbell
NAPCP
Minnetonka, MN, USA
(952) 474-1263
http://www.napcp.org
# # #