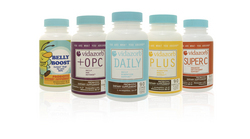 New York, NY (Vocus) November 8, 2010
As winter creeps upon us, it is essential that we take the appropriate measures to stay healthy. One product that may help you to ward off that winter cold is a probiotic supplement. As probiotics emerge into mainstream modern medicine, choosing the best product for your needs has become an increasingly daunting and confusing task. Below, Vidazorb presents some steps to take to ensure the best results.
1. Know what probiotics are

Probiotics are live microorganisms which, when consumed in adequate amounts, provide a health benefit to the host. Affectionately known as "good bugs," probiotics can aid with assorted ailments including diarrhea, urinary tract infections, irritable bowel syndrome, ulcerative colitis, eczema, and allergies. They also help support a robust immune system.
2. Know why you're taking probiotics

General health – to help absorb essential vitamins and minerals and maintain optimal immune health
Healthy digestion – to maintain regular digestion, which also decreases bloating, gas and some stomach pains
Cold and flu protection – to boost the immune system and keep the body strong
Avoid sickness during travel – to help fend off dreaded vacation health issues and prepare to partake of foreign foods and water
Antibiotic counterbalance – antibiotics deplete good bacteria along with bad bacteria. Taking probiotics the week before, during and after a round of antibiotics will help stomach comfort and lessen the risk of yeast infections in women
Eczema – to curb this itchy, unpleasant ailment in children and adults.
3. Understand the differences in probiotic strains

Each of the hundreds of probiotic strains performs in subtly different ways
Buy based on clinical research and results, rather than price. If you buy a probiotic that has the wrong strains or can't keep the strains alive and effective, it is a waste of money, no matter what the price
Pick products using strains that are compatible with each other
The most researched and effective strains for most health issues include L. acidophilus, Bifidobacterium, S. thermophilus. L. rhamnosus and B. coagulans. Look for one or more of these in each product
4. Research products prior to shopping

Many important factors may not be found on supplement labels. These could include:
o Shelf life – confirm that the bugs will stay alive long enough for use
o Specific strains – in probiotic supplements strains matter. Know what bugs are in the bottle
o Storage requirements – make sure to note if the product needs to be refrigerated and how long it will last once opened
o Clinical testing – verify that the strains used in the product have been through human clinical trials with positive results
For more information on probiotics, or to arrange an interview with a company spokesperson, please contact Leesa Raab, leesa(at)adinfinitumny(dot)com or Beth Hurtubise, beth(at)adinfinitumny(dot)com
About Vidazorb®
Vidazorb® represents the development of superior shelf-stable, chewable probiotic formulations to provide essential support for core health needs. Research and development, together with a commitment to quality and efficacy, defines Vidazorb® as a brand of integrity and excellence. For more information, visit http://www.Vidazorb.com. For engaging, kid-friendly probiotic information, visit http://www.Zorbee.com. To learn more about the importance of, and science supporting, probiotics, visit http://www.YouAreWhatYouAbsorb.com. Vidazorb® can be purchased online at vidazorb.com and drugstore.com
###