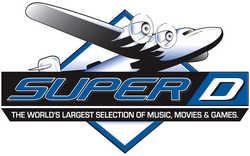 Irvine, CA (PRWEB) November 5, 2010
Super D, a Worldwide Music Wholesaler has acquired substantially all the assets of:
Infinity Resources, Inc.
Collectors Choice Music, Inc.
I-Serve Direct Commerce Services, Inc.
Infinity Consumer Entertainment, Inc.
Infinity Entertainment Group, Inc.
IRI Holding, Inc.
Planet Entertainment, Inc.
With the acquisition Super D acquires the DeepDisount.com, Collectors' Choice Music, and Critics' Choice Video direct to consumer catalogs and websites. For the wholesale business, the additions of Collectors' Choice Music and Hepcat greatly expand the independent distribution of Super D Independent Distribution (SDID).
All trade payables have been assumed by Super D. The acquisition was financed by PNC bank with an expansion of Super D's asset based credit line and a 24-month Term Loan.
Infinity Resources has a 128,867 square foot state-of-the-art distribution facility in Itasca, Illinois that Super D will continue to operate. This greatly expands Super D's current 68,250 square foot warehouse capabilities of its Irvine warehouse.
Super D currently has the world's largest in stock selection of 340,411 unique titles of CD's, Vinyl, DVD's and video games. The world's largest selection includes 120,000 U.S. CD titles, 70,000 U.S. DVD titles and over 150,000 non parallel import titles from 32 countries. The immense in stock selection gives brick and mortar and internet retailers a great selection to offer customers worldwide. Super D's selection is created from their proprietary worldwide database and goal is to have all available unique worldwide titles in stock. Super D plans to use their expansive selection to enhance the consumer selection of the sales channels acquired.
In 1994 when Super D was founded, it was offering 200 top selling titles. Over the past several years Super D has been creating the only Worldwide One Stop that is committed to Superior Service, Selection, and Technology. Orders are shipped same day to over 1,500 retailers and direct to consumers worldwide as third party fulfillment. By building this great in stock selection, Super D has created an outstanding selection for thousands of retail stores and internet sellers worldwide.
About Super D:
Founded in 1990 as an independent music store, CD Listening Bar, Inc. is a privately held employee owned California Corporation located in Irvine, California. Super D currently has the largest worldwide selection of CD's & DVD's from 32 countries in the world and distributes them to independent music retailers, chain music retailers, internet retailers, international retailers and special market retailers worldwide. More information about Super D is available at http://www.sdcd.com or you may contact Jeff Walker, President, at jeffw(at)sdcd(dot)com.
For Details Contact:
Super D
Jeff Walker
President
Jeffw(at)sdcd(dot)com
http://www.sdcd.com
17822 A Gillette
Irvine, CA 92614
Tel: 949-225-1170
Fax 949-225-1171
###