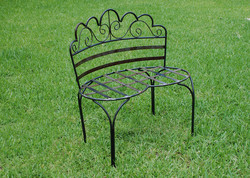 We want our shoppers to come back every week to see what is new!
Beverly Hills, CA (PRWEB) November 8, 2010
Outdoor Iron offers weekly product releases of unique, handcrafted iron garden decor. Every week a new garden decor product is released and featured on the website providing shoppers with the opportunity to get authentic wrought iron items with a rustic finish mailed directly to their home address. "We want our shoppers to come back every week to see what is new," says David Morrison founder and President of Outdoor Iron.
Most of the wrought iron garden decor products that can be found online are not genuine wrought iron. Often these imitations are mass produced and powder coated. The products of Outdoor Iron are each unique because each is handcrafted. The pieces offered come' rusty' providing a true antique finish that garden lovers of California and the Southeast have come to love.
The authentic iron bean bench was the first product released and has been enthusiastically accepted. This iron garden bench is a big hit and demand continues to grow. Future product categories to be released include more garden benches, arbors, gazebos, baskets, trellis, baker's racks, bottle trees and much more. All products offered are suitable for indoor or outdoor use with little to no maintenance required.
Outdoor Iron has teamed up with industry professionals in the home and garden area. Discounts will be offered to landscape architects and interior designers looking to use featured products in their projects. These discounts will come in the form of a professional's code that will be assigned to each account holder and can be entered on the website at the time of check out to apply the discount.
Please visit http://www.outdooriron.com/professionals for more information.
Outdoor Iron has made it affordable for garden lovers to purchase unique iron garden decor. In the past, shipping cost were a large issue for most companies interested in selling these highly desired products. After years of negotiations with shipping companies, the best rates possible have been reached and these savings will be passed along to our customers. To find unique handcrafted outdoor iron or additional information please visit the website and come back week after week to see the latest product releases.
About OutdoorIron.com:
Outdoor Iron is a retail e-commerce site of decorative wrought iron furniture, yard ornaments, and patio benches. Products offered are retail, going straight to the end user with an interest in rustic and antique iron works.
Contact:
David Morrison, director of public relations
DLM Imports, LLC
(828)355-4915
http://www.outdooriron.com
###