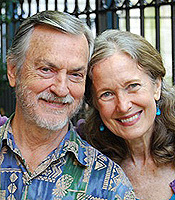 Continuing education credits are available for marriage family therapists, social workers, healthcare workers and psychologists.
Petaluma, CA (PRWEB) November 8, 2010
Couples who are stagnant or experiencing conflict in intimate partnership will learn to restore passion, wholeness, and spiritual connection in an intensive weekend workshop December 10 to 12 at EarthRise at IONS. Led by husband and wife team Harville Hendrix, PhD, and Helen LaKelly Hunt, PhD, the workshop is based on their best-selling book "Getting the Love You Want: A Guide for Couples" and is open to couples of all orientations, lengths of commitment, and stages of life.
During the workshop, which runs from 6 p.m. December 10 to 1:00 p.m. December 12, Hendrix and Hunt incorporate lectures, videos, demonstrations and practice to guide partners to deeper levels of connection and wholeness using Imago Relationship Therapy. Imago is a transformational approach that integrates leading psychological theories and practical observations on the experience of love. It teaches committed partners to become mutual resources for healing childhood and relational wounds, giving them hope to restore passion and spiritual potential.
The weekend workshop fee, which includes meals, is $295 untiil November 10, and $325 thereafter. Overnight lodging for two nights is an additional $70 per night for a shared double room or $95 per night for a single room.
Continuing education credits are available for marriage family therapists, social workers, healthcare workers and psychologists. For more information on CE credit, go to Noetic.Org.
About the Presenters
Harville Hendrix, in partnership with his wife, Helen LaKelly Hunt, created Imago Relationship Therapy and pioneered the concept of "conscious marriage." A pastoral counselor with a theology degree from Union Theological Seminary and a doctorate from the University of Chicago, he lectures internationally, leads couples workshops, and trains professionals. Harville is coauthor of Getting the Love You Want, which has been translated into more than 50 languages, and seven other books, three of which have been New York Times best-sellers. He has appeared on many national television shows, including 14 appearances on the Oprah Winfrey Show. http://www.harvillehendrix.com
Helen LaKelly Hunt holds two master's degrees from Southern Methodist University and a doctorate from Union Theological Seminary. In addition to her work with her husband, Harville Hendrix, in creating Imago Relationship Therapy, Helen has made distinguished contributions to the women's movement and was a cofounder of the New York Women's Foundation. Helen received the Gloria Steinem Award and has been inducted into the Women's Hall of Fame. Coauthor with Harville of eight books, her titles include Faith and Feminism: A Holy Alliance and Giving the Love That Heals: A Guide for Parents. http://www.helenlakellyhunt.com.
EarthRise at IONS
EarthRise Retreat Center at the Institute of Noetic Sciences (IONS) offers facilities for multi-day group workshops and retreats on the same 200-acre wooded campus where IONS conducts its pioneering work in human consciousness research and education. Located just 40 miles north of San Francisco, Earthrise Retreat Center offers 120-bed lodging in single, double, and couple accommodations, a dining facility featuring California-style cuisine based on organic local foods, and a book store/gift shop. Favored by psychologists, educators, scientists, and spiritual masters, Earthrise Retreat Center offers ample indoor space, walking trails, and pastoral settings for group gatherings, experiential learning and quiet reflection. For booking information, visit http://noetic.org/earthrise/book/overview/ or contact Lisa Vanderboom at 707-779-8224.
###