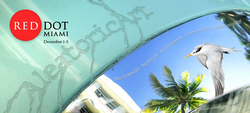 There is no accident, just as there is no beginning and no end." Jackson Pollock (1912-1956)
Cypress, TX (PRWEB) November 8, 2010
AleatoricArt is a Houston based gallery of selected international artists who allow the laws of physics to guide their creative vision, seeking out art born of natural causes and daring to leave some things purely to chance. By developing a deeper artistic understanding of the forces that have governed our universe since the beginning of time, these courageous innovators have discovered unique ways of collaborating with nature to produce some of the most beautiful and compelling chance-based images in contemporary art. This year the gallery presents 5 randomly selected artists whose most recent creations and latest techniques will be on display, and all of the artists will attend the show.
AleatoricArt made its debut at the Aqua Art Fair in 2009 and was quite an attraction at the event. Artists represented at this years exhibit are Allan Rodewald, Ted Lincoln, Andrew Schrock, Nicola Parente and J. Coleman Miller.
See the RED DOT website http://www.reddotfair.com for hours and events.
The Artist's Websites:
http://www.allanrodewald.com
http://www.tedlincoln.com
http://www.jcolemanmiller.com
http://www.andrewschrock.com
http://www.nicolaparente.com
###