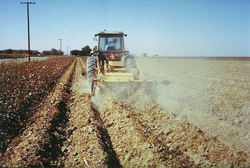 We call this system 'bio-tillage'--it enhances the natural processes in the soil."
Bakersfield, CA (PRWEB) November 9, 2010
Interstate Equipment & Mfg. Corp., manufacturer of the Cotton Shredder-Bedder, recently redesigned its Internet website. There are four videos available for viewing in addition to several product brochures presented for download.
The Cotton Shredder-Bedder is a unique patented one-pass conservation tillage implement made in the U.S.A. What sets this machine apart is its ability to dig, extract, crush and shred the entire cotton plant and root system. Plus, it tills the soil in the growing area and reshapes the old beds all in the same operation. The Cotton Shredder-Bedder is ideal for small, medium and large growers in all cotton-producing countries worldwide. The new website videos feature two-row and four-row units in actual field operation. Product literature and brochures are also accessible.
Interstate's president, Al Ruozi, states, "Conventional fall tillage methods are expensive because of the number of trips over the field to shred, disk several times and form the beds. A farmer can save a lot of money on land preparation costs and 'do more with less' when using the Cotton Shredder-Bedder once over the field and planting back in the same bed. Growers who go back into cotton, vegetable or grain crops will benefit from a planting area that is stubble and root-free. 100% of the cotton plant residue goes back into the soil to improve its texture. This best management practice enriches the earth, allows for better water and root penetration and reduces airborne dust which helps to contribute to a cleaner environment. We call this system 'bio-tillage'--it enhances the natural processes in the soil."
The year 2010 marks Interstate Equipment & Mfg. Corp's 62nd year in business. Since 1948 the company has worked with cotton and vegetable farmers to reduce fall tillage costs, cut energy usage and eliminate soil compaction in the growing area. "Conservation tillage is the ideal 'green' production system now and for the future. This sustainable agriculture practice works with Nature's beneficial organisms to increase microbial activity, improve water infiltration and help preserve the soil for future generations," Ruozi said.
Marilyn Robolino
Interstate Equipment & Mfg. Corp.
509 East Brundage Lane
P.O. Box 70296
Bakersfield, CA 93387-0296
telephone 661-322-6659
fax 661-322-7448
http://www.cottonshredderbedder.com
Interstate Equipment & Mfg. Corp. is a family-owned research and development company dedicated to preserving farmland through conservation agriculture.
# # #