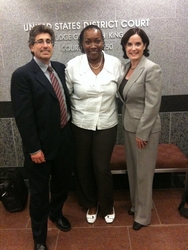 "The jury's verdict restored my client's faith in the system after the officer ignored her cries of pain for thirty minutes and the LAPD investigation concluded the incident never happened. The system worked and justice prevailed!" V. James DeSimone.
Los Angeles, CA (PRWEB) November 8, 2010
On November 5, 2010, in Taylor-Ewing v. City of Los Angeles et al., CASE NO. CV 07-5556 GHK , a Federal Court jury found that a Los Angeles Police Department officer violated the civil and constitutional rights of Tesha Taylor-Ewing when he handcuffed her too tightly and refused to loosen them for at least thirty minutes causing nerve damage. The verdict provided for $160,000 in compensatory damages to the Plaintiff for medical bills, physical pain, and emotional harm.
The testimony given in the trial of the case was, as follows: On April 26, 2006, LAPD Officer Jose Castaneda handcuffed Ms. Taylor-Ewing while questioning her about the vehicle she was lawfully driving. At trial, Officer Castaneda explained that she was stopped because the license plate of the vehicle came up as a stolen vehicle, which turned out to be an error. At trial, Ms. Taylor-Ewing, a paralegal who repossessed the vehicle for her employer when payments had not been made for over a year, testified that as she was explaining that the paperwork for the vehicle was in a brief case in her car, Officer Castaneda grabbed her by the wrist and handcuffed her, clamping the cuffs down in an improper and excessively tight manner. At trial, witnesses confirmed that despite Ms. Taylor-Ewing repeatedly informing him she was in pain and asking him to loosen the handcuffs, the LAPD officer refused to do so. Medical doctors testified at trial that shortly after the incident, Ms. Taylor-Ewing was diagnosed as suffering from radial sensory nerve neurapraxia. Ms. Taylor Ewing testified that she suffered burning pain in her wrist for over six months.
The unanimous jury also found the officer battered Ms. Taylor-Ewing, and that he acted with reckless disregard for her rights when he failed to loosen her handcuffs despite her pleas that the handcuffs were too tight and that she was in pain. The jury verdict on the federal claim provides for an award of attorneys fees under the Federal Civil Rights Statute.
V. James DeSimone, of SCHONBRUN DESIMONE SEPLOW HARRIS HOFFMAN & HARRISON, Ms. Taylor-Ewing's counsel said: "The jury's verdict restored my client's faith in the system after the officer ignored her cries of pain for thirty minutes and the LAPD investigation concluded the incident never happened. The system worked and justice prevailed!"
Genie Harrison, co-counsel for the Plaintiff and SDSHHH"s newest partner, added, "We hope that the LAPD will hear the jury's message that police officers cannot handcuff suspects so tightly that they cause nerve damage in the wrist."
For more information contact:
Jim DeSimone or Genie Harrison
Schonbrun DeSimone Seplow Harris Hoffman & Harrison
723 Ocean Front Walk
Venice, CA 90291
(310) 396-0731
vjdesimone(at)sdshh(dot)com
harrisongenie(at)gmail(dot)com
# # #