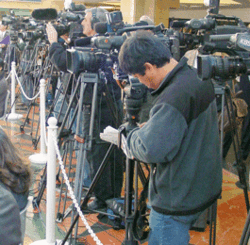 All of this year's finalists have made economic development and job creation a top priority
Los Angeles, CA (PRWEB) November 08, 2010
The Los Angeles County Economic Development Corporation (LAEDC) plans to announce on Wed, Nov. 10th, 2010, the winner for its 2010 Most Business-Friendly City in Los Angeles County award. The honorees will be announced at the 15th annual Eddy Awards® gala, which has become the most important economic development award program in the state of California. This year's event will be held at the Beverly Hilton.
The cities of Alhambra, Carson, Downey, Torrance, West Covina and Whittier are finalists for the population 60,000 and over category, and the cities of Azusa, Cerritos, Commerce, Duarte, La Mirada and Monrovia are finalists in the population 60,000 and under category. Inaugurated in 1996, the annual Eddy Awards gala has become the most important economic development award program in the state of California.
One winner from each category will be announced live at the 15th Annual Eddy® Awards on Wednesday, November 10th, at the Beverly Hilton. Inaugurated in 1996, the Eddy® Awards gala has become the most important economic development award program in the state of California. In 2006, the LAEDC created the "business-friendly" award category to recognize cities within the County that are proactively promoting business-friendly programs and services.
"All of this year's finalists have made economic development and job creation a top priority," said LAEDC president and CEO, Bill Allen. "This year, we received more applications from cities throughout the County than in any other year in the award's history. These cities understand that having healthy, vibrant and prosperous communities depend on attracting, retaining and growing businesses which are so critical to sustaining our economic vitality and quality of life."
For details on the criteria and finalist visit: MAYOCommunications.com, Los Angeles.
Kaiser Permanente will receive corporate award at the Eddy Awards® event. This year's celebration pays tribute to Los Angeles County's single largest private employer and one of the nation's leading health plan and managed care providers, Kaiser Permanente.
"As the largest private employer in Los Angeles County, Kaiser Permanente has created tens of thousands of quality jobs, while providing a critical service for our residents and communities," said Allen, "Kaiser Permanente has transformed how health care is administered and delivered with its integrated care model and focus on health prevention, and in doing so has helped propel Los Angeles County's health services sector to one of our region's leading economic clusters."
"This honor is a testament to the physicians, other care-givers and employees of Kaiser Permanente who work each day to improve the health of our members and our community," said Benjamin Chu, M.D., president of Kaiser Permanente's Southern California Region. "Our electronic medical record system, KPHealthConnect, brings 21st century medicine to our patients and helps them to live healthy lives and thrive." For more about Kaiser Permanente's story visit: http://www.mayocommunications.com/2010-NEWS%20RELEASES/NR-352.htm
And LAEDC will spotlight Do Won Chang, the founder of Forever 21, one of the world's fastest growing fashion brands, as its individual Eddy® Awards honoree. Headquartered in the City of Los Angeles, Forever 21 began in 1984 and has since become synonymous with trendy, affordable fashions. Do Won Chang and his wife Jin Sook Chang emigrated from South Korea in 1981 in search of the American Dream, and began their fashion empire with their first store in Highland Park. Since then, Forever 21 has grown to 457 stores in 15 countries with sales of nearly $3.0 billion annually.
For More on Forever 21 story visit: http://www.mayocommunications.com/2010-NEWS%20RELEASES/NR-353.htm
About the Eddy Awards ®
The Eddy Awards® were introduced by the LAEDC in 1996 to celebrate individuals and organizations that demonstrate exceptional contributions to positive economic development in the region. For sponsorship and event information, please contact Justin Goodkind at (213) 236-4813 or justin.goodkind(at)laedc(dot)org. For more information about the Eddy Awards®, visit http://www.MAYOPR.com.
Past Eddy honorees include business leaders and organizations representing a multitude of industries:
Dr. Patrick Soon-Shiong • The Boeing Company • Rick Caruso • The Walt Disney Company • City National Bank • Toyota • Richard Ziman, Arden Realty • Janice Bryant Howroyd, ACT•1 • Liam McGee, Bank of America • Monica Lozano, La Opinión • George Deukmejian, 35th Governor of California • Eli Broad, The Broad Foundation • Tim Leiweke, Anschutz Entertainment Group • James Thomas, Thomas Properties Group • Michael Antonovich, L.A. County Supervisor • David Baltimore, CalTech • Richard Riordan, Former LA Mayor • USC • George Graziadio, Imperial Bank • Beverly O'Neill, Long Beach Mayor • Ed Roski, Majestic Realty Co. • Edison International & Southern California Edison
Editor's Note:
For advanced media interviews and images, please contact Aida Mayo or George Mc Quade, MAYO Communications at 818-340-5300 or 818-618-9229 or Publicity(at)mayocommunications(dot)com. If you need public relations, media relations and community outreach contact the #1 agency in Southern California said, "PRSA LA."
http://www.mayocommunications.com
# # #