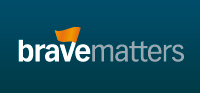 The strength of this merger lies in expanding our platform of inbound and social marketing strategies to help clients create more engaging and valued brands, not only online but offline as well
Norman, OK (PRWEB) November 8, 2010
BraveMatters and Holotrope Marketing, two firms providing integrated communications and strategic marketing services, announce that they are merging. Effective immediately, the resulting full-service marketing agency will integrate strategic resources and personnel operating under the BraveMatters brand. The firm will share resources and maintain offices in Norman, OK and Dallas, TX expanding its regional footprint within the strong economic corridor between Oklahoma City and Dallas.
BraveMatters, founded in 2008 by Peter Wyro, and Holotrope marketing, founded in 2001 by Tom Howard, both offer specialization in online marketing services including web design, development, inbound marketing, and social media strategies. Both companies have earned strong reputations for developing results-driven strategic marketing initiatives for their clients. Howard will be joining BraveMatters as a Principal while maintaining a presence in the Dallas area.
"The strength of this merger lies in expanding our platform of inbound and social marketing strategies to help clients create more engaging and valued brands, not only online but offline as well," says Wyro, Principal and Founder of BraveMatters.
Holotrope's experience with delivering interactive marketing solutions expands BraveMatters engaged marketing practice and enhances its strategic approach across all marketing disciplines - research, branding, customer relationship management, and strategic communications.
"The merger of BraveMatters and Holotrope further solidifies our commitment to the business in the Southwest," says Howard. " The Austin-Dallas-Oklahoma City corridor is an important market for us. This merger doesn't just provide greater access to clients in the corridor but also nationally and internationally as well. Our growth potential is exponential."
BraveMatters is a multidisciplinary marketing solutions firm with emphasis in branding, customer engagement, and strategic marketing services in B2B industries. The firm's goals are to represent the needs of the market and work with each client as a partner in the planning, implementation and optimization of marketing strategies. BraveMatters has offices in Dallas and Norman, OK, and serves clients anywhere in the United States. For more information, visit: BraveMatters.com or Facebook.
###