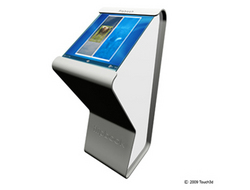 virtual Flipbook will creatively explore new evolving media
(PRWEB) November 10, 2010
Touch3d announces the release of the latest design "flipbook" interactive. The contemporary design demonstrates the latest optical touch technology with multi-touch interface. Touch3d designs and manufactures its own components and software.
About Touch3d
Touch3d design unique products for a range of solutions. Our industrial design service can provide innovative and functional products including concept design, 3d Cad development, manufacturing and mechanical engineering. We design custom products with Multi-Touch technology and our designers can create innovative and functional kiosks, large format interactive displays up to 120inch, Exterior Through-Glass touchscreens, In-Wall touchscreens, and our own manufactured LCD Touchscreens.
Design requires a unique and provocative approach of understanding technology and custom designs are a common expectation that offer a unique solution for that high profile product placement. Touch3d create unique products and user experience through interactive touchscreens. We provide interactive solutions for Retail Shops windows and semi-permanent kiosk designs. See our online shop: http://www.touch3d.co.nz/shop.
According to the FPD International website, the touch-panel industry is targeting a one-trillion yen market. As touch panel designers we offer larger screens, thinner and lighter designs, and improved durability, organizers of FPD International expect that touch panels will continue to become commonplace, not only in the mobile phone, game console and television markets, but in other consumer markets such as office and home automation and also Wall touchscreens.
For more information, please contact:
James Alexanda
Sales Marketing
Touch3d
Email james(at)touch3d(dot)com(dot)au
Web touch3d.com.au
© 2010 Touch3d Limited. Touch3d and the Touch3d logo are trademarks or registered trademarks of Touch3d Limited NZ. All third-party product and company names are for identification purposes only and may be trademarks of their respective owners.
# # #