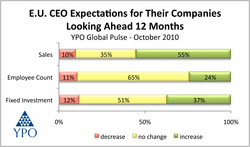 After a downturn in July, CEO sentiment in the European Union recovered the cautious optimism reported in the April survey
(PRWeb UK) November 8, 2010
European Union CEOs surveyed by Young Presidents' Organization in October 2010 expressed rising confidence in the economy after the third quarter. The YPO Global Pulse Confidence Index for the European Union rebounded 2.7 points in October to 57.3. This index had reached a high of 58.9 in the first quarter before slipping to 54.6 at midyear. The current results followed the global index, which at 61.9 brushed up against its high level of April 2010.
The quarterly survey results were announced today by YPO (Young Presidents' Organization), a global network of 17,000 chief executive officers. The YPO Global Pulse survey is the only CEO economic sentiment survey that spans the globe on a quarterly basis, capturing answers from more than 2,000 CEOs representing companies of all sizes. In total, the companies run by YPO members employ more than 15 million people and generate £3,400 billion (€3,900 billion) in annual revenues.
Key Findings
Third-quarter results improve. Companies across the board reported year-on-year growth in sales for the second quarter, while employee numbers remained largely unchanged versus a year ago, and fixed investment rose just slightly.
Optimism begins to take hold. Forty-three percent of those who replied expect the general business and economic conditions to be better in six months, compared with 22% who expect conditions to be worse. This represents a slightly brighter outlook than what CEOs reported last quarter. Optimists in the European Union outnumbered pessimists by a 2:1 margin. That is up slightly from last quarter but well below the 5:1 ratio in the global sample.
Higher sales expectations support fixed investment plans. Business leaders in the European Union were markedly more optimistic about sales compared with their view three months earlier, lifting the sales confidence index to 63.6 from 58.8. More than half (55%) of the CEOs surveyed expect sales to increase by at least 10% over the next 12 months. Moreover, 38% of CEOs said they plan to increase fixed investment in the next 12 months, raising this component of the confidence index to 56.7 from 53.1 in July.
Still cautious about hiring. Despite anticipation of higher sales, CEOs remain cautious about hiring, with just 24% expecting to add employees, down from 28% in the July survey. But a decline from 14% to 12% in the number of companies expecting to cut their headcount kept overall sentiment essentially steady with the prior quarter.
Small companies are more positive than larger ones. Looking ahead 12 months, expectations were rosier among CEOs running companies of all sizes compared with last quarter, with small companies (less than 100 employees) expecting the most widespread growth in sales (68% of small company participants), headcounts (40%) and capital spending (47%).
"After a downturn in July, CEO sentiment in the European Union recovered the cautious optimism reported in the April survey," said Jochen Wermuth, founder of Greater Europe Funds, chief investment officer of Wermuth Asset Management, and member of the YPO Greater Europe Chapter. "The improvement in expectations for sales and fixed investment is encouraging, but it appears the majority of companies still want to see sustained, stronger growth before they are ready to add employees."
Global Results
The October 2010 YPO Global Pulse survey gathered answers from 2,074 CEOs around the world. Global confidence rose 2.1 points to 61.9, buoyed by rising confidence in every region except the Middle East/North Africa, where confidence fell 1.8 points to 63.4, and Asia, which remained roughly unchanged and continues to be the world's most optimistic area. The emerging markets are still the most bullish overall about future sales growth, job creation and capital spending. At the same time, positive sentiment about overall economic conditions was more widespread in the United States, the European Union, Canada and Australasia than in the previous quarter.
YPO Global Pulse Confidence Index
The YPO Global Pulse Confidence Index combines CEO answers about expected and most-recent-quarter sales, employee numbers, fixed investment and business conditions. The index is centred on 50. An index reading below 50 indicates a negative outlook – the lower the number, the more negative the outlook. A reading above 50 indicates a positive outlook – the higher the number, the more positive the outlook.
Survey Methodology
The quarterly electronic survey, conducted in the first two weeks of October 2010, had answers from 2,074 chief executive officers across the globe, including 250 from the European Union. Globally, 26% of participants are from large companies (more than 500 employees), 36% from medium-sized companies (100-500 employees), and 38% from small companies (less than 100 employees). By business sector, 24% of participants are from the manufacturing industry, 9% from construction and 67% from the services sector. For more information, go to: http://www.ypoglobalpulse.org.
About YPO
YPO (Young Presidents' Organization) is a not-for-profit, global network of young chief executives connected around the shared mission of becoming Better Leaders Through Education and Idea Exchange™. Founded in 1950, YPO today provides 17,000 peers and their families in more than 100 countries with access to unique experiences, world-class resources, alliances with top learning institutions, and specialised Networks that help them enhance their business, community and personal leadership. Please visit us at http://www.ypo.org . Also see us on http://www.facebook.com/pages/YPO-Young-Presidents-Organization-Official-Public-Page/263560908348?ref=search&sid=616117795.3237268856..1g [Facebook __title__ Click this link.] and follow us on Twitter.
# # #