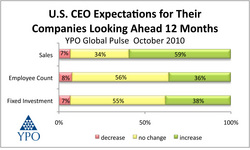 After retreating for a quarter in the summer survey, the U.S. YPO confidence index resumed its upward trend in October
Dallas, TX (PRWEB) November 8, 2010
The YPO Global Pulse Confidence Index for the United States rebounded in October to a relatively robust level of 59.9 as U.S. CEOs reported improved conditions and rising optimism. The U.S. outlook mirrored the global trend. This was a change from last quarter, when the United States, Europe, Australasia, the Middle East and Latin America all diverged from Asia's rising optimism.
The October quarterly survey results were announced today by YPO (Young Presidents' Organization), a global network of 17,000 chief executive officers. The YPO Global Pulse survey is the only CEO economic sentiment survey that spans the globe on a quarterly basis, capturing responses from more than 2,000 CEOs representing companies of all sizes, including Fortune 1000-size corporations. In aggregate, the companies run by YPO members employ more than 15 million people globally and generate US$5.4 trillion in annual revenues.
Key Findings
Conditions improved during the third quarter. Assessing the current economic conditions versus six months earlier, nearly half of the U.S. CEO respondents (46%) reported that conditions had improved, while 18% said conditions had deteriorated. Firms of all sizes were generally in agreement about the extent of the improvement. By type of business, the production and service industries reported better conditions, while the construction sector reported no improvement in the past six months.
Optimism rises about economic conditions. Respondents were almost uniformly enthusiastic about economic conditions looking six months ahead, and they are more optimistic than they were in the previous quarter. Half of respondents (49%) now expect conditions to improve, while just 12% expect them to be worse. In the previous quarter, the comparable figures were a less-optimistic 42% and 19%, respectively. The current optimistic assessment is shared across firms of all sizes. With respect to sectors, the production and service industries are more optimistic than construction, but for the first time since April, construction industry respondents anticipate improvement in the coming six-month period.
Sixty percent expect higher sales. With respect to sales, firms of all sizes cited stronger
sales relative to the same quarter a year ago. The only sector that did not experience such improvement was construction. When asked about sales 12 months from now, survey respondents were almost uniformly optimistic, as almost 60% of respondents expected sales to climb. However, the results overall were only marginally better than what was reported one quarter ago. Survey respondents in production and services were most enthusiastic, and even firms in the construction industry anticipated a pickup in sales. This rosy outlook was shared by firms of all sizes.
Employment outlook improves. The outlook for employment is not as bright as it is for sales, but it has improved. Unsurprisingly, only 25% of companies reported increases in employment in the past year. However, the 12-month outlook brightened somewhat with 36% of firms expecting to boost employment. This is somewhat higher than was reported in the previous quarter. Firms of all sizes expect to hire more workers, but small firms appear to be more intent on boosting employment than do their larger counterparts. Even the beleaguered construction industry expects to add workers in the upcoming 12-month period.
Investment outlook rises to highest level. Investment was higher for almost all firms during the most recent 12-month period. Companies of all sizes reported that investment had risen, but it was most noticeable at the larger firms. The only sector that did not boost investment in the past year was construction. Looking ahead, survey respondents were quite enthusiastic as 38% expect to hike capital expenditures in the coming 12 months. That expectation was shared almost evenly by size of firm. The fixed investment component of the U.S. confidence index rose to 58.2, the highest level since YPO began measuring CEO sentiment in 2009.
"After retreating for a quarter in the summer survey, the U.S. YPO confidence index resumed its upward trend in October," said Dave Maney, spokesman for the YPO survey and chairman and co-founder of Denver-based Headwaters MB, a middle-market investment bank. "Particularly encouraging was the improvement in hiring expectations, the brightest outlook yet for fixed investment, and the first signs of improvement we've seen in the construction sector since YPO began the survey."
Global Results
The October 2010 YPO Global Pulse survey gathered responses from 2,074 CEOs around the world. Global confidence rose 2.1 points to 61.9, buoyed by rising confidence in every region except the Middle East/North Africa, where confidence fell 1.8 points to 63.4, and Asia, which remained roughly unchanged and continues to be the world's most optimistic area. The emerging markets are still the most bullish overall about future sales growth, job creation and capital spending. At the same time, positive sentiment about overall economic conditions was more widespread in the United States, the European Union, Canada and Australasia than in the previous quarter.
YPO Global Pulse Confidence Index
The YPO Global Pulse combines CEO responses about expected and most-recent-quarter sales, employee count, fixed investment and business conditions. The index is centered on 50. An index reading below 50 indicates a negative outlook – the lower the number, the more negative the outlook. A reading above 50 indicates a positive outlook – the higher the number, the more positive the outlook.
Survey Methodology
The quarterly electronic survey, conducted in the first two weeks of October 2010, had responses from 2,074 chief executive officers across the globe, including 1,167 from the United States. Globally, 26% of respondents are from large companies (more than 500 employees), 36% from medium-sized companies (100-500 employees), and 38% from small companies (less than 100 employees). By business sector, 24% of respondents are from the manufacturing industry, 9% from construction, and 67% from the services sector. For more information, go to: http://www.ypoglobalpulse.org.
About YPO
YPO (Young Presidents' Organization) is a not-for-profit, global network of young chief executives connected around the shared mission of becoming Better Leaders Through Education and Idea Exchange™. Founded in 1950, YPO today provides 17,000 peers and their families in more than 100 countries with access to unique experiences, world-class resources, alliances with top learning institutions, and specialized Networks that help them enhance their business, community and personal leadership. Please visit us at http://www.ypo.org . Also see us on http://www.facebook.com/pages/YPO-Young-Presidents-Organization-Official-Public-Page/263560908348?ref=search&sid=616117795.3237268856..1 [Facebook __title__ Click this link.] and follow us on Twitter.
###