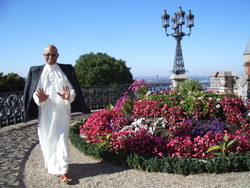 Because Americans are fed-up with all of this fighting between men, women, races and religions, and we all wish that there could be at least one place where 'out of many, one' really meant something - someone had to come-up with a simple solution!
Orlando, FL (PRWEB) November 10, 2010
In a nutshell... It began as a vision... "The American Museum of Religion™ w/conservatory & botanical gardens, and the flagship of the (first of its kind) Ladies' Golf Club of America™ with double-gated, residential privacy, and true community spirit, attached to a prestigious, master-planned community, is to be built in one of Florida's most remarkable lakeside settings... a world unto itself; an unrivaled combination of natural beauty," says Michael Brittingham, the poet & developer.
According to Brittingham, "In America, there is a demonstrated need for more education about comparative religion, both for children and adults. Currently, this need is insufficiently met and poses a danger to our American values. The proposed American Museum of Religion™ stands on the cusp of greatness. Its envisioned exhibitions, collections, and programs shall help to bring interfaith understanding, mutual tolerance and common interest cooperation between the Abrahamic religions. This effort shall greatly enrich the cultural and spiritual landscape of America and the world."
Brittingham's personal story and poetry reverberates because it comprises large doses of both struggle and transformation, life, love and laughter. Brittingham's poetry captures the boundless possibilities that life holds, despite the struggle and the hurdles... an idea that resonates for every man and woman.
Brittingham explains further that "Because Americans are fed-up with all of this fighting between men, women, races and religions, and we all wish that there could be at least one place where "out of many, one" really meant something, someone had to come-up with a simple solution; I decided to write 'The First Book of Poems By Michael Brittingham - By Special Appointment to Her Majesty The Women,' jjust for women, and the men who would like to understand them... and to begin raising the capital to build a remarkable, planned community campus in Florida – now!"
The museum's program and services shall be a resource and a forum for Muslims, Christians and Jewish Americans who value the relationship between them, and who want to act in response to erroneous and misleading depictions of the relationship in the media and elsewhere. The goal is to help people from all walks of life and with all levels of knowledge to better understand and evaluate the Christian, Jewish and Islamic religions with a theme of "Out of many, One." serving as a special touchstone of identity for American people.
On a landscaped plot in front of the museum shall be An Official 9/11 Memorial surrounded by Memorial Fountains, erected on the front lawn of the property to honor all of those who died in the September 11, 2001 terrorist attacks and to commemorate in perpetuity - those who made the supreme sacrifice.
Brittingham finds 'the whole idea of "women-friendly golf courses" demeaning to women and condescending'" He says "The Mission of The Ladies Golf Club of America™ is to provide a place for ladies to play, learn and enjoy a lifestyle of involvement with the game of golf, in a safe, well-maintained and environmentally friendly, private club and golf facility setting. A first of its kind in America".
Heidi Casey, the project's Director of Public Relations states "Our strategic mission is to design a Residential Golf Course Community with a suite of amenities, that fulfils the economic requirements of the developer, and a lifestyle amenity to our consumer – basically women who enjoy and play golf. Our core business model is to buy-out golf club owners with troubled golf assets, stabilize their operations, develop an adaptive re-use with a suite of new amenities, i.e. non-golf asset attractions, and then maximize the financial performance – ultimately owning and managing the property at its highest value. In all cases we shall make significant improvements to the troubled club's bottom line, reversing the downward trend while improving the customer's and members' enjoyment of the club and community."
Those interested in learning more, may upon request, receive and then execute a confidentiality agreement (NDNC) and a verifiable, proof of funds capability statement (POF). Please execute the agreement if you are acting as a principal or have your client sign the agreement if you are working in a brokerage capacity. You will receive an email with access to our secure online due diligence vault.
Visit http://www.michaelbrittingham.com/ Contact or fax Heidi Casey at Toll Free, USA & Canada 1-800-783-5230 for more information.
###