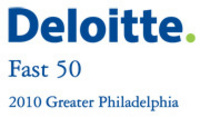 SofterWare, Inc. and the other 2010 Greater Philadelphia Fast 50 winners forged ahead in a challenging economic environment to realize exceptional growth
Horsham, PA (Vocus) November 9, 2010
SofterWare, Inc. today announced that it ranked in the 2010 Greater Philadelphia Fast 50, Deloitte's ranking of 50 of the fastest growing technology, life sciences and clean technology companies in the Greater Philadelphia region. Rankings are based on percentage of fiscal year revenue growth during the period from 2005–2009. SofterWare, Inc. grew 67 percent during this period.
SofterWare CEO, Doug Schoenberg, attributes steady growth to continued focus on client satisfaction. He said, "Our ability to continue to grow year after year is the direct result of the hard work of our dedicated employees. Their commitment to continuously improving each of our products and services has lead to record levels of customer satisfaction, which is critical to any business – particularly during periods of economic weakness."
"SofterWare, Inc. and the other 2010 Greater Philadelphia Fast 50 winners forged ahead in a challenging economic environment to realize exceptional growth," said Tara L. Weiner, managing partner, Greater Philadelphia region, Deloitte. "Deloitte commends SofterWare for this impressive accomplishment."
SofterWare has been previously recognized five times as a winner of the Greater Philadelphia Fast 50 award.
For details on the 2010 Greater Philadelphia Fast 50 including selection and qualifying criteria, visit http://www.deloitte.com/us/phillyfast50
About SofterWare, Inc.
SofterWare Inc., povides software for several vertical markets and the company's client base includes thousands of organizations throughout North America and the world. SofterWare's mission is to develop, market, maintain and support software that is easy to learn, easy to use, and adaptable to users' unique needs. SofterWare currently offers DonorPerfect Fundraising Software and Donor Management, EZ-CARE2:Child Care Management Software for Daycare Center Management and School-Age Child Care Management; EZ-CAMP2: Camp Management Software and Camp Online Registration; and MMS for Schools: Student Information Systems. For more information on SofterWare and its products, please visit http://www.softerware.com
As used in this document, "Deloitte" means Deloitte LLP. Please see http://www.deloitte.com/us/about for a detailed description of the legal structure of Deloitte LLP and its subsidiaries.
###