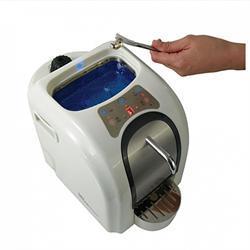 Saint Paul, MN (Vocus) November 22, 2010
Seasoned professional designers, bench jewelers, and hobbyist or a do-it-yourself jewelry makers who need the right tools to do the job right have a new online resource of tools and supplies. In fact, the right tool can make all the difference between enjoyment of your craft—and frustration.
To help increase the joy of jewelry making, Esslinger and Company, a wholesale jewelry supply company with over 80 years in business, is expanding its website to include more jewelry making tools for every jeweler's needs. Find all you need to make jewelry (including today's popular beaded and wire wrap jewelry). In addition, you can build your jewelry skills and improve your bench repair expertise.
Esslinger carries Swiss and other European-brand high-quality jewelers tools and instruments, not only for jewelry makers, beaders and wire wrappers, but also for gemologists and bench jewelers who needs to get jobs done fast. The company has equipment ranging from tool kits for beginners and do-it-yourself crafters, to industrial strength tools for mass production and finishing.
Best of all, Esslinger's expert and friendly staff of good listeners have the knowledge and background to help you find the jewelry tools you need. They can introduce you to new tools, new brands and a greater range of selection at the expanded jewelry tools website. There, you'll be able to find specially built jewelers' pliers, new ultrasonic jewelry cleaners, new beading tools and kits, polishing machines, and many, many more jewelry making tools.
Among the well-known brands to look for include: Beadsmith, Grobet, Pepe tools, Foredom, Bush, Vigor, Khron, Pro-Craft, Ferris, Castaldo, Neycraft, Connoisseurs, Ellanar, and GemOro.
For more information and to start shopping, go to: esslinger.com
###