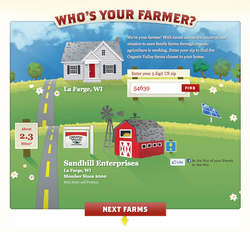 "Through 'Who's Your Farmer?' customers can now 'meet' their dairy farmer and better appreciate how their purchases of Organic Valley products are directly supporting their local food economy." - Theresa Marquez, Organic Valley
La Farge, WI (PRWEB) November 22, 2010
Organic Valley, America's largest cooperative of organic farmers and one of the nation's leading organic brands, now has an interactive way to show just how local their farmers are with the launch of a new an online feature, "Who's Your Farmer?"
By going to the website and entering their zip code, locavores can now see which Organic Valley farms are close to them, down to the actual distance from the farm to their town or city. Click on links associated with a farm, and website visitors can easily learn more about many of the dairy farmers themselves and their on-farm sustainability practices through personal profiles and photos. For most farms, there is also a link to "like" the farm on Facebook.
"Many Organic Valley consumers don't know that our farmers are practically in their backyard—even for those customers who live in urban centers," said Theresa Marquez, chief marketing executive for Organic Valley. "Through 'Who's Your Farmer?' customers can now 'meet' their dairy farmer and better appreciate how their purchases of Organic Valley products are directly supporting their local food economy."
Each of Organic Valley's 1,630 co-op farmer-owners, located in 33 states and four provinces, are included in "Who's Your Farmer? "Organic Valley developed the application with a zip code search so that visitors can not only find their own farmer neighbors, but those of their family, friends… or anyone else! Who is Michelle Obama's farmer? Go to http://www.organicvalley.coop/who-is-your-farmer, enter zip code 20500 and meet Ron and Kathy Holter, a short 42.4 mile Marine One helicopter ride from the White House to the milking parlor. California Governor Schwarzenegger? 68.7 miles to Organic Valley farm-star Frank Coelho's front door.
"'Who's Your Farmer?' is part of Organic Valley's increased emphasis on showcasing their local farmer-owners. Earlier this month, Organic Valley started featuring individual farmers on their regional milk cartons, providing an updated twist on the celebrity marketing technique that many brands employ, making the co-op's farmer-owners the stars of Organic Valley products.
"Our farmers are the heroes behind our product and the families who purchase and trust Organic Valley," said Marquez. "We are excited to introduce them to their neighbors, both through our website and our packaging. Now everyone can know who their farmer is!"
Organic Valley Family of Farms: Independent and Farmer-Owned
Organic Valley is America's largest cooperative of organic farmers and one of the nation's leading organic brands. Organized in 1988, it represents 1,630 farmers in 33 states and four Canadian provinces, and achieved $523 million in 2009 sales. Focused on its founding mission of saving family farms through organic farming, Organic Valley produces a variety of organic foods, including organic milk, soy, cheese, butter, spreads, creams, eggs, produce and juice, which are sold in supermarkets, natural foods stores and food cooperatives nationwide. The same farmers who produce for Organic Valley also produce a full range of delicious organic meat under the Organic Prairie label. For further information, call 1-888-444-MILK or visit organicvalley.coop, organicprairie.coop and the cooperative's farmer website, farmers.coop. Organic Valley is also on Twitter @Organic_Valley and Facebook facebook.com/OrganicValley.
# # #